How many people does it take to change a light bulb at Heathrow? The bright sparks who designed Heathrow's £4.3bn Terminal 5 aren't sure, because no light bulb has ever been changed in the terminal.
Bafflingly, the concourse in the departure zone in the terminal has no safe way of changing the bulbs - and airport bosses are to bring in high-wire artists to stop the terminal, designed by one of Britain's most eminent architects Richard Rogers, plunging into darkness.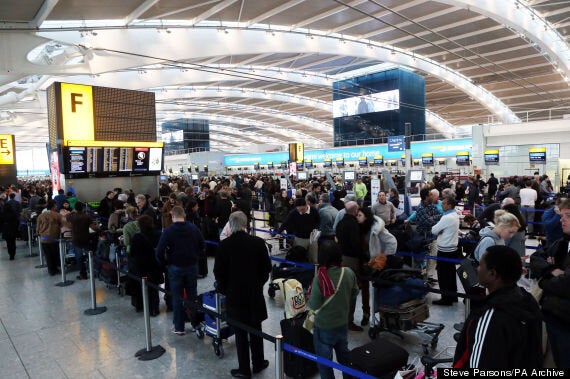 Passengers at Heathrow Terminal 5
The shambles came to light after the investigative website published an email from Vicki O'Brien, head of customer services at Heathrow.
THE EMAIL WHICH REVEALED HEATHROW'S GATHERING DARKNESS

'The reason for the poor light is that 60 per cent of the existing down lighters above the departures concourse have failed, and until recently Heathrow had no viable way to replace them.

Since T5 was opened in March '08, there have always been challenges for Heathrow with replacing blown light bulbs.

Various things have been investigated in the past five years (eg gondolas and high-level cherry pickers), but for a number of reasons, none of these was practical or safe.

The good news is that Heathrow has now identified a safe and robust way to replace all of the light bulbs, and this is high-level rope work carried out by a specialist company.
Exaro reported the plan was to replace lighting with environmentally friendly bulbs which would last up to five years, before the circus has to be called in again.
Related