Red Bull Racing ended a remarkable Formula One season in Brazil as Sebastian Vettel and Mark Webber took first and second at Interlagos.
For Vettel it was another well-controlled race that earned himself two more records, as he became the first driver to win nine successive grands prix and 13 races in one season. Team-mate Webber ended his F1 career with another podium and huge applause from drivers and fans alike.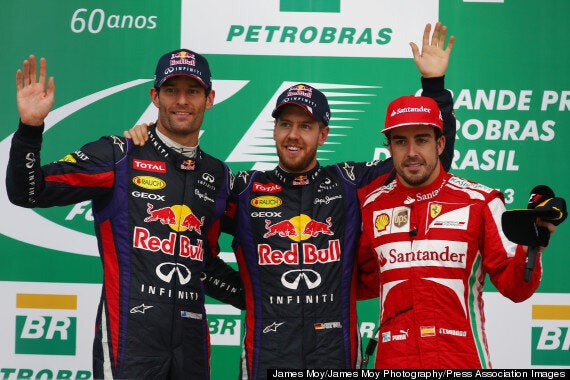 Sebastian Vettel and Mark Webber gave Red Bull the perfect season finish
Polesitter Vettel lost the lead before the first corner to Nico Rosberg but by the second lap he was back at the head of the field with Webber also enjoying progress up the leaderboard to take second with Fernando Alonso in third. The pair would enjoy a strong battle throughout the race at an overcast Interlagos.
Once past Rosberg, Vettel quickly built up a good lead and took control of the race but his 20-second lead quickly evaporated at a disastrous second pitstop that caught some of his pit crew unawares.
The world champion could only sit and watch as one of his wheels was brought out from the Red Bull garage after the other three had already been fitted.
This allowed Webber to close to within five seconds even though he had to queue behind Vettel's car for a couple of seconds. Vettel kept his cool though and kept his team-mate at bay to take the chequered flag and cap a stunning season for the German.
In his 215th and final race Webber crossed the line in second for yet another podium place and the popular Australian removed his helmet on his slow down lap to take the crowd's plaudits. He will be racing in sportscars with Porsche next year.
Behind Red Bull, Mercedes sought to secure the points they needed to claim second in the Constructors Championship, Lewis Hamilton moved up the order to strengthen the team's hand.
However, a collision with Valtteri Bottas which put the Finn out of the race, earned him a drive through penalty that dropped him out of the points. He recovered to finish in ninth and Rosberg fifth with Mercedes runners-up to the runaway leaders, Red Bull.
After the US Grand Prix, Alonso said he was 'proud' of his runners-up spot in the Drivers Championship because Ferrari didn't have the second best car this year.
Third place in Brazil was another demonstration of Alonso's immense skill. On the podium, the Spaniard paid tribute to his team-mate, Felipe Massa, who's final race for Ferrari ended a disappointing seventhx after he was handed a drive-through penalty for overstepping the white line of the pitlane.
Meanwhile, McLaren saved their best for last. Admittedly, Jenson Button's fourth place would not normally be anything for the Woking team to crow about, but having started on the grid in 14th, the Briton showed superb form.
How he must have prayed for the rain that had plagued Interlagos all weekend to return. With his wet weather prowess, who knows what may have happened? Unfortunately, it wasn't enough to stop the Woking team matching its worst record of no podiums in a season, a feat last achieved in 1980.
Button's team-mate, Sergio Perez, was not far behind in sixth but he's now out of McLaren and facing an uncertain F1 future.