The French government became so infuriated with London's refusal to deal with its hotbeds of extremism that they plotted to assassinate extremist preacher Abu Hamza, a new report has claimed.
French spies planned to impersonate a neo-Nazi terror group, send death threats and eventually kill the hook-handed preacher, anti-fascist group Hope Not Hate believe.
In their report 'Gateway to Terror' , it is alleged that Islamic extremists have operated in Britain under a "covenant of security" as British security officials allowed Islamists to freely preach homophobia, antisemitism and subversion abroad as long as they refrained from terrorism in Britain.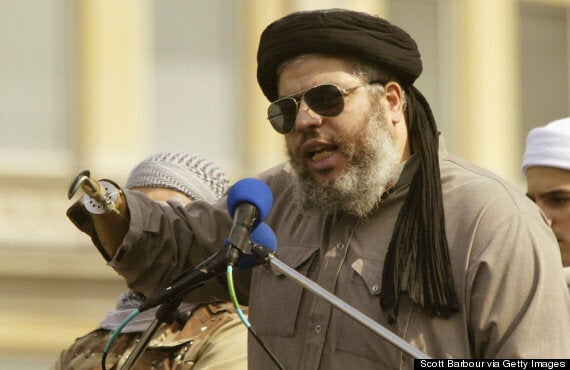 Islamic cleric Abu Hamza speaks during the Rally for Islam at Trafalgar Square in London in 2002
The "covenant" was referred to by two hardline preachers, Omar Bakri and Sayful Islam, leader of al-Muhajiroun in Luton, who said it was"against Islam for me to engage personally in acts of terrorism in the UK because I live here".
The report alleges that hook-handed Abu Hamza, who was extradited to the United States on October 5th 2012 to face charges of supporting al-Qaeda, were in close and regular contact with the security services.
The French are said to have been furious at such a policy, particularly at Britain's tolerance of a group of extremists based in London who were militants of the Algerian Groupe Islmique Arme, based at Finsbury Park Mosque which they published their newsletter al-Ansar, which was edited at different times by Abu Hamza and Abu Qatada.
GIA activists carried out the 1995 Métro and RER bombings in Paris that killed eight and injured hundreds, traced back to several individuals who had lived in Britain.
In the run up to the 1998 Football World Cup in France, Hope Not Hate claim the French authorities had "serious concerns about possible terrorist attacks designed to disrupt the games, and seriously considered kidnapping Abu Hamza".
He would be hauled into a van to Dover, and taken to France to have French justice meted out to him. Another plan was for a secret service division, Draco, to assassinate several figures of key concerns.
Both of those plans have previously come to light, but Hope Not Hate claims it has new information that another plan was hatched by the French security services to impersonate the British nazi group Combat 18 and then allow them to take the blame for Abu Hamza's assassination, after having sent him fake death threats.
France's Interior Ministry refused to comment on the alleged plot to kill Hamza.