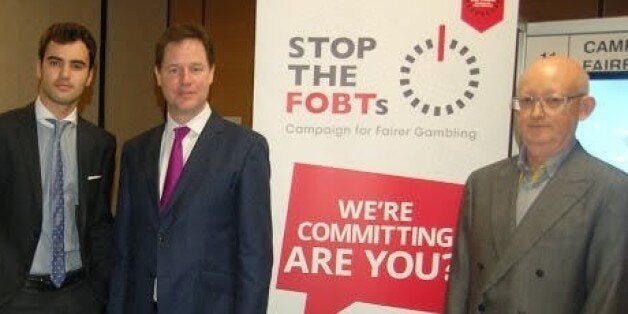 Labour MP Graham Jones told the Huffington Post UK that the Lib Dems had displayed "naked opportunism" after senior figures including Nick Clegg were photographed supporting 'Stop FOBT' campaigners and then later "voting to preserve the status quo of £100 per stake FOBTs."
However, Hemming accused Jones of "completely misrepresenting" the Lib Dems' voting, telling the Huffington Post UK: "FOBTs started to be introduced in 2001 under a Labour Government. They existed under Labour for 9 years. Labour really should not complain about the government taking another 4 months to deal with this properly."
"The committee did not take a decision on whether or not to ban (or reduce the stake) on FOBT machines. In later tweets, he has shown that he does not understand that statutory instruments can be struck down by the courts. Hence it is important to make sure that they are not vulnerable to judicial review.
"This requires a detailed process involving formal evidence for the decision. If we were to go about things the way Graham suggested it could be that reducing the maximum stake could take longer than the process identified by the government as it could get bogged down in legal proceedings."
Hemming's comments have failed to appease Jones, who insisted the party still had many "unanswered questions", such as "how can the Lib Dems argue the regulations this week were right to have excluded FOBT's on the basis of no evidence but as a Party call for them to be stopped without in their own words, any clear evidence?"
Derek Webb, founder of the Campaign for Fairer Gambling and Stop The FOBTs campaign, said: "There are mixed messages coming through from MPs from all parties. This is a cross-party issue, and we have always planned a long-term campaign, so will continue our efforts to see sensible restrictions on the high-speed, high stake gaming machines on Britain's high streets."
Blogging on the Huffington Post UK, Labour MP Tom Watson wrote: "At the moment, a punter can walk into a high street bookmakers and gamble away £100 every 20 seconds for 13 hours. This has the potential not only to destroy their life but also the lives of everyone else around them."