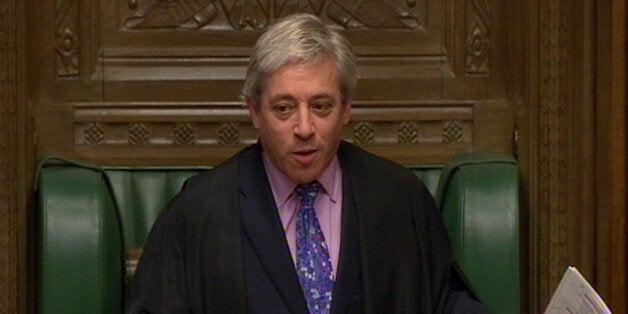 John Bercow has received just 61 letters concerning the noise at prime minister's questions since July, despite claiming he is sent "bucket-loads" every week.
The Speaker of the House of Commons recently warned that the "blood sport" behaviour of MPs during PMQs risked causing "carnage" to the reputation of parliament and putting voters off politics.
Bercow frequently admonishes MPs during the weekly sessions for shouting and screaming at each other across the chamber.
In November, during one especially undignified bout of heckling, the Speaker told MPs: "There is simply too much noise on both sides of the chamber. I appeal to the House, because I get bucket-loads of letters every week from members of the public complaining about it. Cut it out: it is low-grade, down-market and unnecessary."
Figures released to the The Huffington Post UK following a Freedom of Information Request reveal that between 10 July and 6 November of this year, 61 letters or emails were received by the Speaker from the public concerning the behaviour of MPs during prime minister's questions.
On average this is three or four letters a week during that period. However there have been only 10 PMQs during that time, which would mean the Speaker received an average of six letters for each week there was a session.
The figures also revealed that the Speaker received 64 letters or emails about PMQs in total, suggesting the overwhelming majority of those received were not complimentary about how politicians conducted themselves each week.
Figures for earlier than July of this year were not available. It is also not clear how big John Bercow's bucket is.