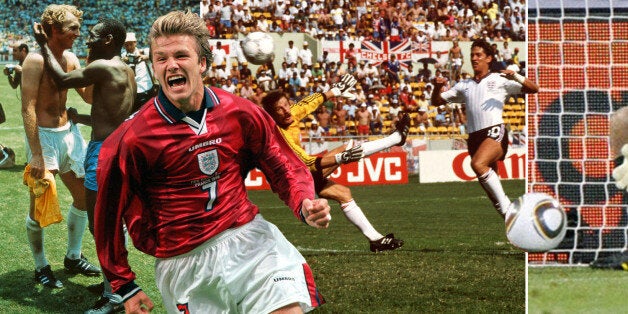 With a World Cup "group of death" draw a real possibility for England, perhaps they should remind themselves how they fared when they last suffered such a fate and consider the luck they have had in past draws.
Roy Hodgson is more concerned about accommodation than opposition, and he might have a point...
England's sole World Cup win is all the more impressive for the teams they faced: Urguay, Mexico and France came before the Argentinian "animals", Portugal and West Germany in the knockout phase.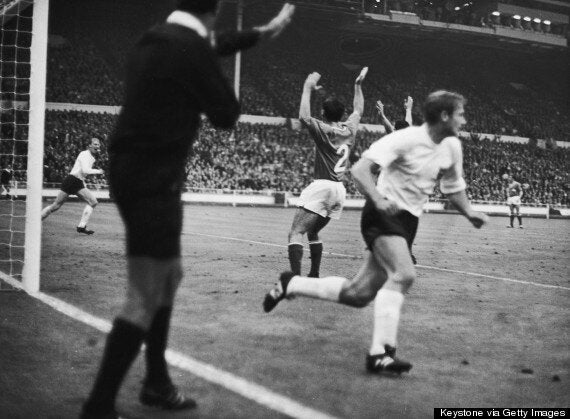 Roger Hunt wheels away after opening the scoring against the French at Wembley
Alf Ramsey's men began their campaign with a 0-0 draw against Uruguay, but beat Mexico and France 2-0, with Roger Hunt getting both in the latter tie.
Preparations were blighted by Bobby Moore's Bogotá Bracelet incident, but England's 1-0 wins over Czechoslovakia and Romania saw them through. It was their match with Brazil which enriched a terrific tournament.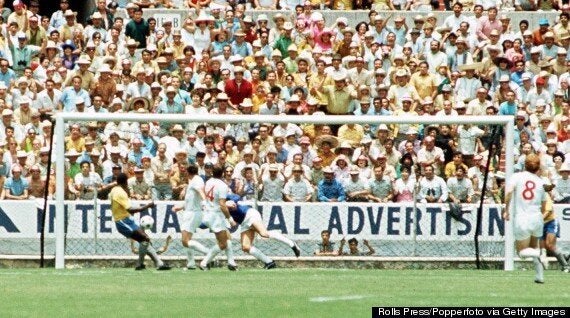 Pelé thinks it's in, the crowd thinks it's in, but Banks makes sure it isn't in
Playing in their first World Cup for 12 years, England's eagerness was immediate. Bryan Robson's 27-second strike against France stood as the quickest goal at a World Cup for 20 years, as Bobby Robson's side registered a 3-1 win over the eventual semi-finalists.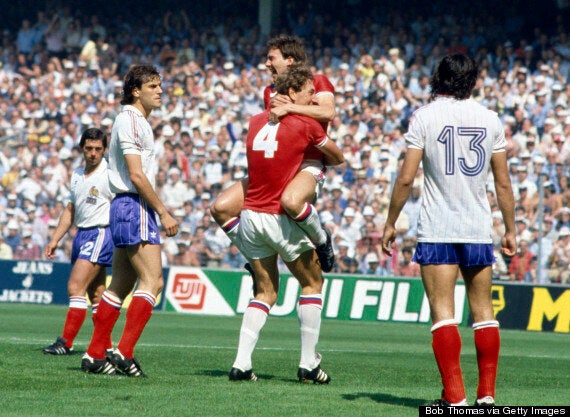 Goal in 27 seconds: Robson is congratulated by Terry Butcher
Two-nil and 1-0 defeats of Czechoslovakia and Kuwait gave England a 100% record before another group stage.
Rather than a round-of-16 and quarter-final knockout games, the 1982 World Cup featured four three-team groups with a last four berth the prize for the winners. England drew 0-0 with both West Germany and Spain, with Kevin Keegan's missed header the painful memory from another finals failure.
Back when three of the four teams from each group qualified for the knockout stage and a win counted for two points, England's campaign was in danger of ending in disaster following defeat to Portugal and a draw with Morocco, in which Ray Wilkins was sent off for throwing the ball at referee Gabriel González.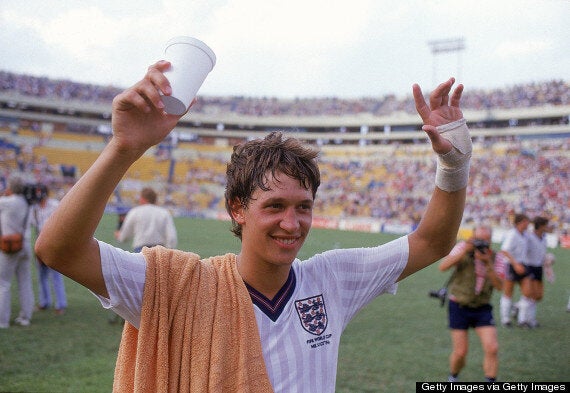 Lineker won the Golden Boot for the 1986 finals
However, Gary Lineker brightened up a finals remembered for its perpetual glow in the heat with a hat-trick against Poland, who qualified for the last 16 along with England.
England claimed just four points against the Republic of Ireland, Holland and Egypt. In fact, the team's win against the Egyptians in Palermo was the only non-draw in the group.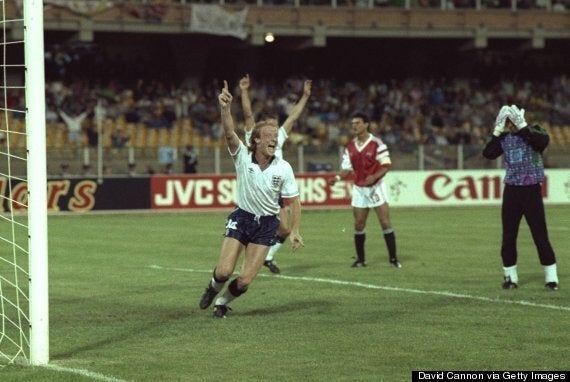 Mark Wright celebrates the winning goal against Egypt
A vibrant England side vanquished Tunisia 2-0 for a winning start in Marseille and should have beaten Colombia by more than two goals in the final group match, however defeat to Romania sandwiched in between those triumphs would prove costly.
The Tunisia win was unusual for the nation since the match was played at 1:30pm BST, leading to schoolchildren pleading with teachers to switch on a radio or television. An Alan Shearer header opened the scoring before a majestic Paul Scholes strike secured three points.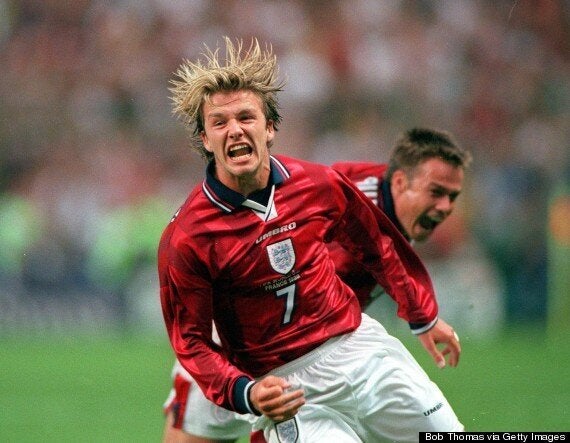 David Beckham scored his first England goal against Colombia
Glenn Hoddle, under pressure to drop Teddy Sheringham for Michael Owen, persisted with the Manchester United striker for the next game with Romania. Trailing Viorel Moldovan's goal, Owen replaced Sheringham with 18 minutes remaining and equalised, only Graeme le Saux let in Chelsea teammate Dan Petrescu to nick a winner in stoppage-time.
Darren Anderton and David Beckham's spectacular goals in the must-win match in Lens sent England through to the knockout stage, where they faced Argentina in St Etienne.
JAPAN AND SOUTH KOREA, 2002
The common consensus was England had been drawn in the tournament's "group of death" when they ended up in the same cluster as tournament favourites Argentina, bogeymen Sweden and the unpredictable Nigerians.
Winless against Sweden since 1968, Sol Campbell's opener against the Scandinavians was cancelled out by Niclas Alexandersson following a cock-up between David Seaman and Danny Mills. Despite the disappointing start, England made amends with one of their finest finals performances when they beat Argentina 1-0.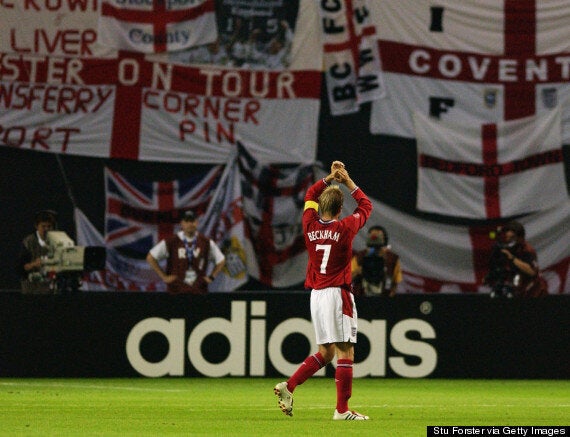 Beckham exorcised some demons from 1998 with his penalty against Argentina
David Beckham's penalty separated the sides but Sven-Göran Eriksson's side dictated proceedings thanks to virtuoso performances from Paul Scholes and Nicky Butt in midfield. A forgettable goalless draw with Nigeria in Osaka sealed qualification, albeit as runners-up after Sweden ejected Argentina from Asia.
Seeded for the 2006 finals and boasting the so-called "golden generation", England laboured to a 1-0 victory over Paraguay in Frankfurt before they edged out Trinidad & Tobago 2-0 in Nuremberg, partly thanks to the introduction of a half-baked Wayne Rooney.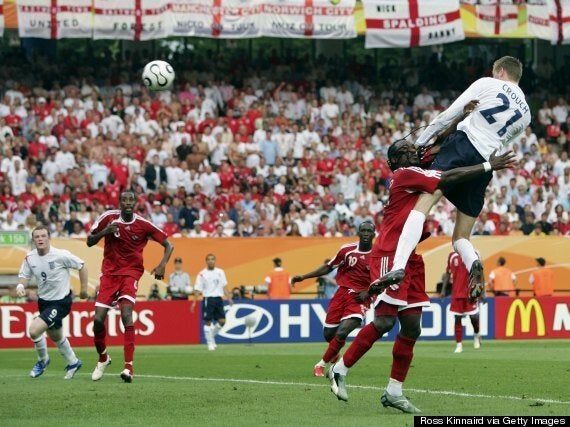 Peter Crouch rises to break the deadlock against Trinidad & Tobago
Familiar foes Sweden came from behind twice to clinch a 2-2 draw to deny England in Cologne, with Joe Cole's looping volley the stand-out moment. The Three Lions comfortably won Group B.
"EASY" was the Sun's front page acronym to greet the news England, Algeria, Slovenia and the USA had been drawn together. Only it was anything but.
With England edging towards a 1-0 half-time lead over the United States in their opening game, Robert Green spilled Clint Dempsey's supposedly unthreatening shot into his own net, joining the pantheon of calamitous England goalkeepers. He fortuitously parried Jozy Altidore's shot onto the woodwork after the interval and England began their tournament with a draw.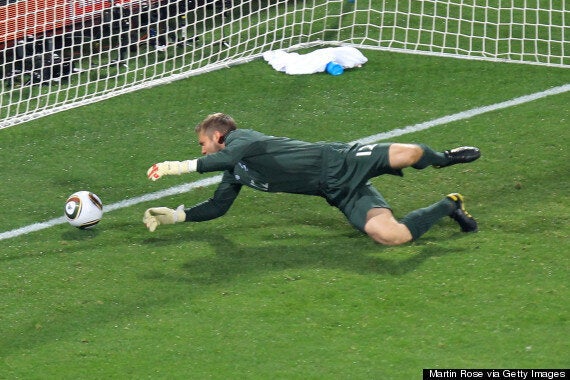 Slipping away: Green's error cost England a lead and momentum
The scoreless contest in their next match with Algeria was one of the most abject showings by an England team at a finals, as a juvenile speckled pigeon got a bird's eye view from atop one of the goal nets, knowing there was no chance of either side scoring.
England qualified for the last 16 with a 1-0 defeat of Slovenia, thanks to Jermain Defoe's strike, but the Americans' late victory over Algeria consigned Fabio Capello's men to that last 16 tie with Germany.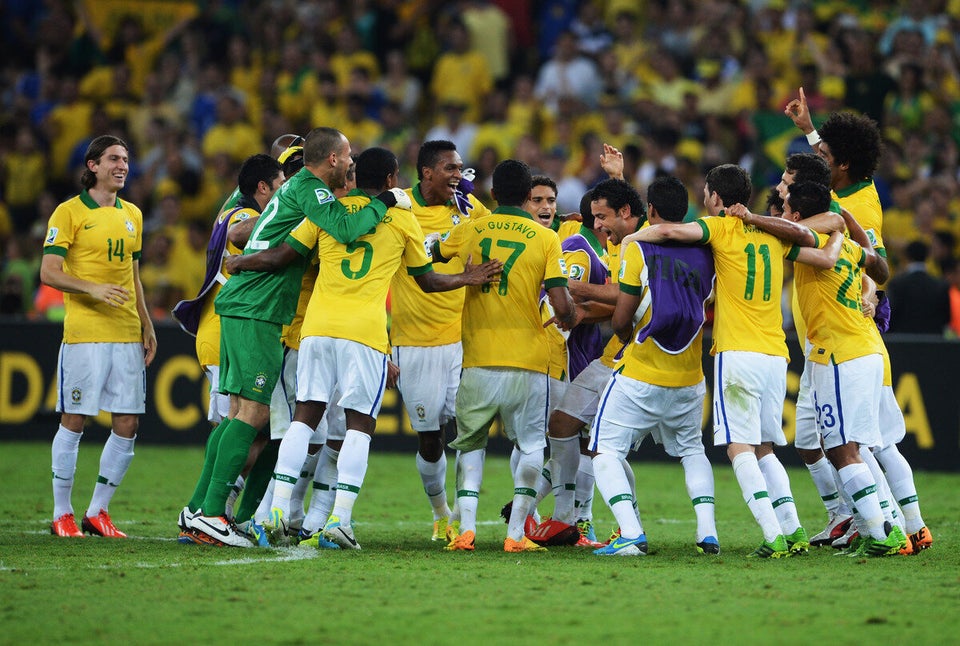 Who'll be at the 2014 World Cup?
Related