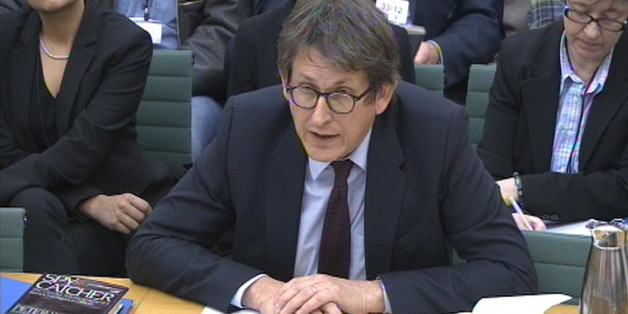 PA/PA Wire
The five things you need to know on Wednesday 4 December 2013...
1) ALL YOU NEED IS LOVE
Guardian editor Alan Rusbridger appeared before the Commons home affairs committee yesterday. Its Labour chairman, Keith Vaz, shocked everyone by asking whether he "loved this country". And Tory Michael Ellis confused everyone else by asking him whether he would have delivered the Enigma code to the Nazis if he had the chance. Which would have been pretty pointless, seeing as one would think the Germans already knew how to use their own encryption system.
Vaz was asked to appear on BBC Newsnight last night to defend his line of questioning, however decided not to appear. Two of his home affairs committee colleagues did make it to the studio and made it clear they thought questioning a newspaper editor's patriotism was weird.
Today's Memo is edited by Ned Simons as Mehdi Hasan has questionable love for his country.
2) WAKE UP DARLING, TIME TO GO TO WORK
The Financial Times reports this morning that senior Tories think "comatose" Alistair Darling is doing a pretty rubbish job of saving Britain from Alex Salmond. The leader of the Better Together campaign has to be a Labour figure as the Conservatives only have seven members in all of Scotland. But the paper reports the Tories want a more combative approach to the SNP. Cameron and Osbone could always put a call into Gordon…
3) HOW BIG IS YOUR BUCKET JOHN?
John Bercow recently told rowdy MPs that he gets "bucket-loads" of letters from voters every week complaining about PMQs. However figures revealed to The Huffington Post UK following a Freedom of Information Request show that he has received 61 in the past five months, that's less than four a week. Of course, it is not clear how big Bercow's bucket is.
BECAUSE YOU'VE READ THIS FAR...: Workout Of The Day: Man Does Press-ups With Baby Goats On His Back (VIDEO)
4) NO TAX CUT
David Cameron has ruled out any middle class tax cuts until the end of the decade, The Daily Telegraph reports. "The job of reducing the deficit and getting Britain back in the black is in no way done. We've cut the deficit by a third but it's still much too big, it still needs to come down further," he said. "We want to get to a position where Britain is back in the black, we want to fix the roof when the sun is shining. We think that when you have, as we hope to have, some years of economic growth, you should be putting money aside for a rainy day."
5) LAZY BRITS
Britain should be grateful that Romanians and Bulgarians will take jobs that its own workers refuse to do, a Romanian government minister has said. Immigrants from the two countries will fill a gap in the workforce, taking on jobs in the agriculture and hospitality sectors from Britons who would rather live on benefits, Labour minister Mariana Campeanu told The Times.
She also rebutted fears of a vast influx of migrants coming to claim benefits when EU working restrictions are lifted on January 1, saying the vast majority will take on necessary jobs such as nursing and social care.
Suggesting that generous benefit payments in the UK leave thousands of low-paid jobs unfilled and attractive to migrants, Mrs Campeanu said: "I do not know in depth the British social welfare system, this is an internal issue of the British government how generous it can be in its welfare system towards its citizens.
140 CHARACTERS OR LESS
@PickardJE Sardonic friend of Alistair Darling points out that reason Tories aren't leading union campaign is they only have one Scotland MP
@JoeWatts Slightly disturbed by the Indy's cartoon this morning, which has @TristramHuntMP and Michael Gove in stockings and suspenders.
900 WORDS OR MORE
Mary Riddell in the Daily Telegraph: Labour needs more than empathy and catchy pledges to win power
Daniel Finkelstein in The Times: Capitalism turns greed into prosperity
Julian Huppert in The Guardian: We should look at the content of the Snowden files – not the messenger
Got something you want to share? Please send any stories/tips/quotes/pix/plugs/gossip to Mehdi Hasan (mehdi.hasan@huffingtonpost.com) or Ned Simons (ned.simons@huffingtonpost.com). You can also follow us on Twitter: @mehdirhasan, @nedsimons and @huffpostukpol