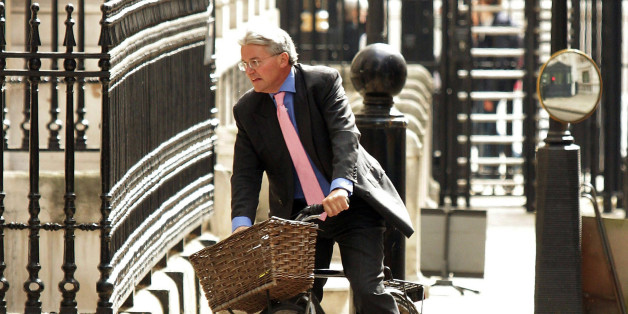 Yui Mok/PA Wire
Toby Rowland, the police officer at the centre of the Plebgate row, is to sue Andrew Mitchell for libel.
Rowland issued a letter of claim against the former chief whip on Monday, in the wake of their differing accounts of a heated confrontation in Downing Street in September last year.
Mr Rowland, who was manning the gate, claims he used the words: ''You should know your f****** place, you don't run this f****** Government, you're f****** plebs."
However, the MP insists he said: ''I thought you guys were supposed to f****** help us''.
It is understood that the officer was already considering legal action before Mr Mitchell said last week that he wanted Mr Rowland to give his account of the argument under oath.
TOP STORIES TODAY
A Police Federation spokesman said: "We can confirm that Pc Toby Rowland yesterday issued a letter of claim for libel against Andrew Mitchell MP. This relates to comments he made following the media-termed Plebgate incident in Downing Street in 2012.
"It would be inappropriate to comment further at this time while there are ongoing legal issues."
The confrontation between then-chief whip Mr Mitchell and officers in September last year was sparked when he was refused permission to cycle through the main gate.
Prosecutors found that there was insufficient evidence to charge Pc Rowland with any criminal offence after the row, and Scotland Yard said he will not face disciplinary action.
Last week Mr Mitchell said he hoped the officer would give evidence on oath as part of the libel proceedings against the Sun newspaper.
''I have told the truth about this incident. The police did not. My reputation was destroyed. I was vilified, relentlessly,'' he said.
Mr Mitchell told Channel 4 News: ''What I do know is that I was stitched up; I was fitted up in Downing Street by armed police officers whose sole duty is to defend officials and to defend Downing Street.''
''We believe that the CCTV shows that the account of Pc Toby Rowland is at very best inaccurate.
''I never said these phrases... no-one speaks like that these days. It's like a Hooray Henry, a lout from a 1920s B-movie being sort of characterised."
But Mr Rowland said he stood by his account of what was said.
The Police Federation spokesman added: "The Federation has supported Pc Rowland with the provision of legal advice in respect of this matter. All subscribed members of the Police Federation are entitled to such support for legal representation as they see fit.
"Such applications are considered carefully by the Federation and then passed on to legal representatives to consider the legitimacy of any case before a decision is made on any such legal proceedings. That has been done in this case."