The selfie, the word synonymous with the demise of humankind, has been brought to a new low.
A woman has been shamed by the New York Post after she snapped a smiling self-portrait in front of a suicidal man on the Brooklyn Bridge.
How selfie-ish! This woman snapped a pic with a suicidal man about to jump from a bridge http://t.co/nFw2OGauQbpic.twitter.com/ppP7PHYK3k

— New York Post (@nypost) December 4, 2013
TOP STORIES TODAY
The shocking image shows how the crass camerawoman turned her back to the dramatic scenes unfolding behind her, snapping a shot as police desperately tried to save the man.
Unsurprisingly, when later approached by The New York Post, she suddenly became camera-shy.
"I'd rather not," she said when asked for her name, the paper reported.
The Internet has flown into a frenzy over the picture, with many despairing at the future of mankind:
Ok I am now convinced, that humanity is lost for sure...A woman takes selfie on Brooklyn Bridge while man in background attempts suicide....

— Ms. Curtis Brooks (@cb74745) December 4, 2013
You know how heartless you gotta be to take a selfie with someone who's about to commit suicide ?

— Saucy (@__Moraa__) December 5, 2013
in case you're not already discouraged by humanity, a ny woman decided to take a selfie in front of a suicide attmpt pic.twitter.com/VhWhCTHM1k

— salsa dancer emoji (@jaimewodell) December 5, 2013
Of course, the woman on the Post's cover isn't the only one guilty of inappropriate selfless, we have a whole list of them:
Here's a guide to selfie etiquette...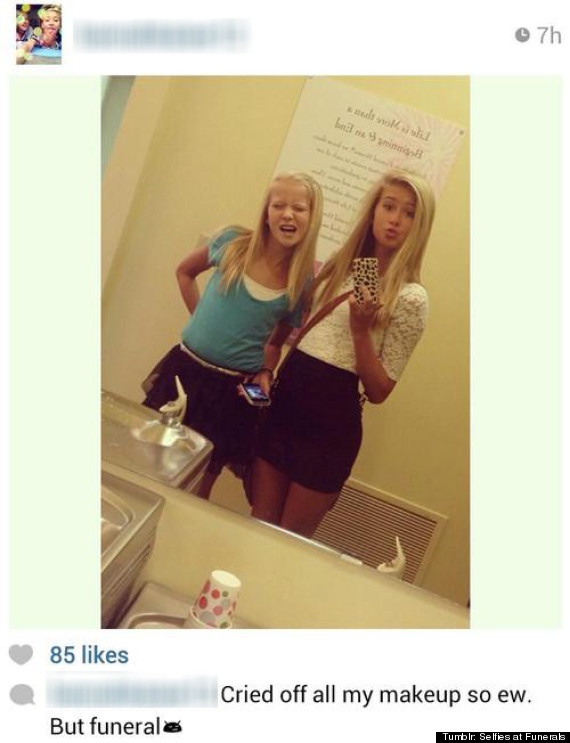 It's really too bad all her makeup got cried off, because the whole point of funerals is to take the attention away from the deceased person and focus on how you look. For more people who feel compelled to take pictures of themselves at services for deceased friends or family members, check out the "Selfies at Funerals" Tumblr.
driving cross cross applesauce and taking a selfie. I'm safe I swear pic.twitter.com/fo2L6JQ5Zd

— Maddy Wiegs (@LittleWiegs) October 31, 2013
What's worse? Taking a selfie while driving or texting while driving? Hahaha...you're probably gonna die.
3. Or tempting fate even further with the selfie in front of someone else's car accident.
Other persons car accident selfie @GGray74pic.twitter.com/vm40bTZOy7

— Ben Allen (@B_Dougie_Fresh) April 1, 2013
Hahaha, that could have been you!
4. The selfie that shows your teacher having contractions.
Selfie with my teacher while she having contractions 😄 pic.twitter.com/EuOf7vTxlc

— Malik . (@SpideyNikka) October 15, 2013
When this guy saw his teacher going into labor, he had the presence of mind to hop up and get help take a selfie.
5. The bloody selfie.
Kevin Rudd, an Australian politician, is no stranger to selfies. Seriously though, did we need to know that you suck at shaving?
6. The hallowed ground selfie.
Taking the selfie to radioactive levels :P #chernobylpic.twitter.com/nZM6xi120L

— Jake Fletcher (@Jake_Fletcher_) June 5, 2013
Get it? This guy is at the site of the world's worst radioactive disaster, where an explosion at the Chernobyl nuclear power plant caused a chemical fire that burned for more than ten days. A quarter of a million people lost their homes, thousands ultimately died and countless Ukrainians are still feeling residual health effects of the massive meltdown.
7. The selfie in front of a homeless person.
Shirtless homeless bum selfie. pic.twitter.com/xz7q5zlZX8

— Christian Castro  (@ChristiannBro) July 1, 2013
Because nothing says you appreciate your privileged life like taking a picture in front of someone sleeping on the ground. He even threw up the deuces...
8. The "look at this guy in the bathroom" selfie.
We were gonna complain about how privacy has been completely destroyed by the selfie, but this is just hilarious.