 ASSOCIATED PRESS
Nelson Mandela's death has seen sales of his memoirs, A Long Walk To Freedom, soar on Amazon as people remember the South African statesman's passing.
Editions of Mandela's autobiography, which was first published in 1994, now occupy the top three spots on Amazon.co.uk's "Movers and Shakers" chart. The book chronicles Mandela's early life along with the 27 years he spent in prison.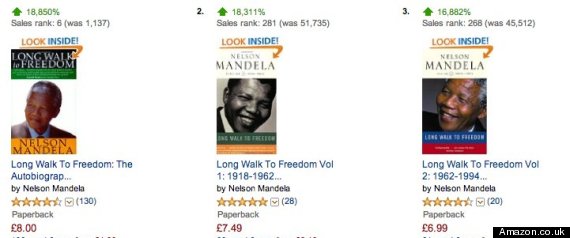 Sales have shot up by 19,000% (as of 10.30am Friday morning)
The book is described as follows: "A LONG WALK TO FREEDOM brilliantly re-creates the drama of the experiences that helped shape Nelson Mandela's destiny. Emotive, compelling and uplifting, A LONG WALK TO FREEDOM is the exhilarating story of an epic life; a story of hardship, resilience and ultimate triumph told with the clarity and eloquence of a born leader."
People have also been rushing to buy copies of the movie Invictus, which stars Morgan Freeman as Nelson Mandela, with sales soaring by over 700%. The movie has shot into second place on Amazon.co.uk's Movers and Shakers DVD section.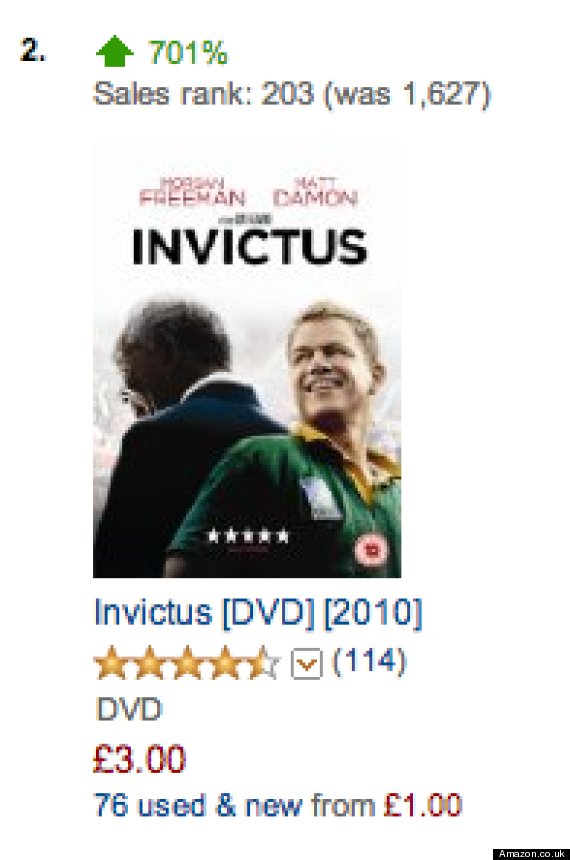 Invictus sales up 701%, as of 10.30am Friday morning
The film, which was released in 2010, "tells the incredible story of Nelson Mandela's rise to power during the 1995 Rugby World Cup which took place in South Africa."
"Directed by Clint Eastwood, the film stars Morgan Freeman as President Mandela, and Matt Damon as Francois Pienaar, the South African rugby team captain."
SEE ALSO: