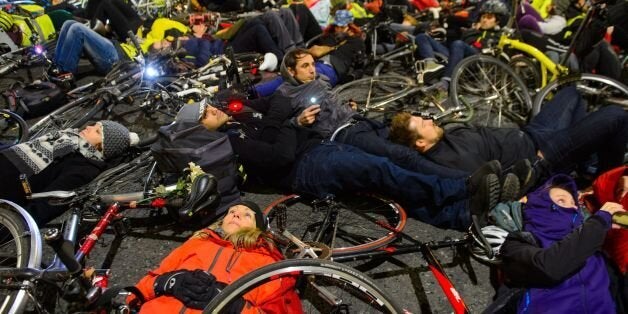 Safety protests sparked by the deaths of six cyclists on the streets of the capital risk scaring people off switching from cars to bikes altogether, London mayor Boris Johnson will warn today.
Johnson will urge "more careful" language, suggesting pro-cycling campaigners could jeopardise the push to boost bike use by concentrating on recent fatalities when overall numbers were not up.
More than 1,000 cyclists recently lay down across a busy central London road in what was dubbed a "die in" outside the headquarters of Transport for London as part of a vigil for those killed.
Johnson - addressing a safety summit bringing together cycle and haulage groups - will hail a £913 million investment in safety measures but urge people not to expect instant results.
Despite the "awful month" of November, cycle deaths in London were the same as at this point last year and lower than the year before, he is expected to point out.
Donnachadh McCarthy, one of the organisers of the protest in central London, told HuffPost UK that the Mayor had got his priorities wrong. "The last thing we want to do is put people off cycling, but it is the killing of cycling that is putting people off. When I leafleted for the die-in protest, I watched the cyclists at Oval and there were no children, no teenagers, only a handful of pensioners. The only people who feel safe cycling are young, fit men.
"In Southwark, just 2% of children cycle to school, but 30% say they want to. Boris has not announced on single penny more investment in cycling. These protests are the kind of protests that forced change in Holland."
It is understood he will use the event - organised before the recent fatalities - to examine the case for a ban on HGVs on some London roads and set out deadlines for improvements to notorious junctions.
The mayor is expected to tell the event at City Hall: "I understand the anger and concern about this terrible spate of tragedies. I share it.
"But it shouldn't obscure the fact that the number of deaths per bike journey taken in London has more than halved in the last 10 years, to one death in every 15 million journeys.
"The number of cyclists killed in London this year was too many - but it is in fact precisely the same as it was at this point last year, and less than the year before."
He is expected to go on: "Of course I accept that people want to create pressure for action to get more Londoners cycling.
"But the risk is that the association of cycling with death may be doing the opposite. It may be scaring people away.
"So we can tackle actual safety. We can and will tackle the roads. But to tackle perceived safety we also need the help of others.
"I'm not saying we should stop talking about safety - but perhaps we need to be more careful in how we talk about it.
"The lesson I take from these tragedies is not that we should draw back from our hugely ambitious cycling programme - but that we should redouble our efforts to achieve it.
"A massive new network of cycle superhighways, completed to far higher standards than before, including two Crossrail segregated routes for the bike through the heart of central London.
"A new network of back-street 'Quietways' for cyclists who may not wish to encounter some of your members behind the wheels of their trucks.
"A huge programme to make London's most dangerous junctions safer and less threatening for cyclists. And, of course, a whole set of measures to make lorries safer."
Related