Former Labour cabinet minister Peter Hain has slammed those who "rewrite" the history of their support for Nelson Mandela and the ANC, and accused the Tories' of "craven indulgence to apartheid rulers".
Hain, whose family were anti-apartheid activists and fled South Africa when he was a child after being declared enemies of the state, paid a moving tribute to the former South African president in the Commons on Monday afternoon, but said he was frustrated with the response from some right-wingers since Mandela's death last week.
"We all say in Britain we were against apartheid, and doubtless we were," Hain said. "But some of us did things about it, and others didn't."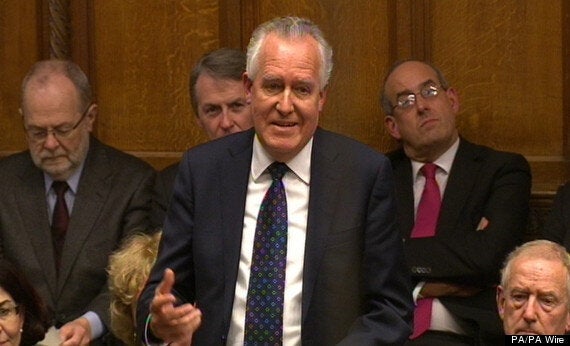 Peter Hain, pays tribute to former South African president Nelson Mandela
"Forgive me, I hope not to strike too discordant a note on this occasion," he continued.
"Were it not for interventions in the media in recent days, I'd have let pass correcting the historical record. I give thanks especially to you Mr Speaker, for volunteering that you were on the wrong side of the anti-apartheid struggle as a young Conservative. [John Bercow was a member of the Monday Club, which produced 'Hang Nelson Mandela' posters]."
The Speaker, who wore a tie with South African flag pattern, nodded slowly as Hain spoke.
"I praise the Prime Minister for admitting his party's record, which I have to describe as craven indulgence to apartheid rulers," Hain said.
"And if Nelson Mandela can forgive his oppressors, who am I not to the same to our opponents the decades of the anti-apartheid struggle. But it really does stick in the craw, when Lord Tebbit, Charles Moore and others similar claim their complicity with apartheid, for that's what I think it was, somehow brought about its end."
Hain said he viewed an interview Tebbit had given with BBC World with "utter incredulity" saying Tebbit said it had been the government's work that brought about Mandela's freedom. "I know that Nelson Mandela did not think so."
In a moving and personal speech, Hain also recalled how at his home in Pretoria, he was "unique among my schoolfriends and relatives in having parents who welcomed everybody to their house regardless of their colour.
"One fellow activist remarked it was the first time he had come through the front door of a white man's house. My mother was often alone in the whites only section of the public gallery at his [Mandela's] trial. He would acknowledge her with a clenched first, which she would return.
"Once when my tiny younger sisters went with my mother, and Winnie [Mandela's wife] kissed two little blonde girls, to the very evident horror of the onlooking white policeman."
Departmental question time was suspended in the Commons today to allow MPs to honour the memory of the former South African president, including contributions from David Cameron, Ed Miliband, Nick Clegg and Gordon Brown.
Earlier in the debate, former Tory minister Malcolm Rifkind drew gasps of incredulity as he said F W de Klerk, the last apartheid-era President of South Africa, "in some ways had it worse than [Nelson] Mandela".
"He was not a saint, as we have heard," Rifkind said. "He was a politician to his fingertips. He believed in the armed struggle in the early part of his career, and some believe for the rest of his career. But he eventually decided that ways of peace were more likely to deliver than armed struggle.
"Mandela deserves the large bulk of the credit but so does South Africa president FW de Klerk. Without him it would not have been a peaceful resolution. In some ways it was more difficult for de Klerk than for Mandela," he continued.
Interrupted by several shrieks from the other side of the gallery, Rifkind ploughed on. "Let me explain what I mean, it's a serious point.
"Mandela was receiving power, and most of the struggle had already been won. De Klerk was persuading his own people to give it up. This was a situation the world had not seen before."
Nelson Mandela was "father of the a nation", not only "leader of a struggle," and "an activist who became a president and a president who became an activist", Ed Miliband said earlier.
And, opening the tributes, Prime Minister David Cameron described Mandela as having an "enduring place in history".
Related