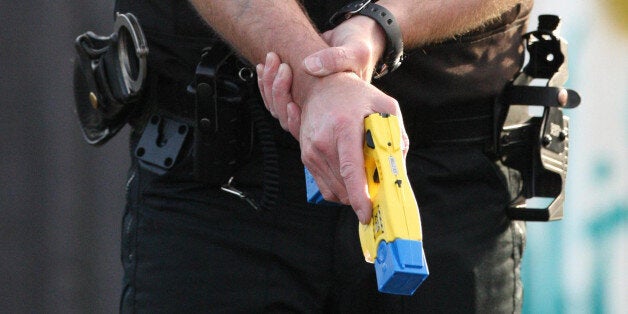 A teenage boy with complex learning difficulties has been Tasered by police in the grounds of a special school owned by the exclusive Priory Group.
Devon and Cornwall Police were called to Chelfham Senior School near Plymouth, which specialises in children with learning difficulties including behavioural, emotional and social difficulties and autism, after reports of an alleged assault on a teacher.
The force confirmed officers deployed a Taser during the incident at 9.20pm on December 1, which involved three boys, a 15-year-old and two 14-year-olds, after reports that knives were brandished at officers.
The day and residential school for boys and girls aged seven to 19 is owned by the Priory Group, a private company known for its addiction clinics favoured by celebrities. It is in the village of Bere Alston in the Devon countryside, close to Dartmoor National Park.
Sophie Khan, a solicitor-advocate and legal director at Police Action Centre, said: "The use of a Taser on this occasion has to be called into question. The police action may have been excessive."
"The use on children is only allowed if it is the only feasible method of restraining the child. It's only there if there are no other alternatives to restrain the child," she said.
"Often officers can say they weren't aware of behaviour issues, but in this case they must have been aware. Using a Taser on someone suffering some kind of behavioural difficulty or disability is something the policy or guidance doesn't allow."
Devon and Cornwall Police are being investigated by the police watchdog over an incident in which a man who doused himself in petrol burst into flames when he was shot with a Taser. Andrew Pimlott, 32, suffered horrific injuries in the confrontation outside his house and died in a hospital burns unit five days later.
However, the Independent Police Complaints Commission (IPCC) has not been contacted in relation to the incident at Chelfham.
The alleged victim was treated at the scene by paramedics for chest and head injuries before being taken to Derriford Hospital.
All three boys involved in the incident were jointly charged with affray and will appear at Plymouth Magistrates' Court on December 20.
A spokeswoman for the school said it was "an isolated incident on the school grounds and as legal proceedings are ongoing it would be inappropriate to comment further".
Figures released to Parliament earlier this year showed armed officers discharged, targeted or threatened to use Tasers against youngsters more than 320 times in 2011 - an 11-fold increase from the first year they were cleared for use against under-18s in 2007.
In the first year of officers being cleared to Taser children, they were used 29 times in England. By 2009, this had increased to 135.
In 2010, the weapons were used 339 times against children and by 2011 - the latest year that figures are available - the total stood at 323.
The figures were released following a parliamentary question asked by Lib Dem backbencher Julian Huppert.
In 2004, following a trial in five forces, it was agreed to allow chief officers of all police forces in England and Wales to make Tasers available to authorised firearms officers.