A bride-to-be has described herself as "ecstatic" after a court ruled she could marry her fiance at the Church of Scientology.
Louisa Hodkin, a member of the controversial movement, took her fight to the Supreme Court after a High Court judge ruled that services run by Scientologists were not ''acts of worship''.
Hodkin wants to marry fiance Alessandro Calcioli in a Church of Scientology chapel in central London. "I am really excited. I'm really glad we are finally being treated equally and can now get married in our church," she said in a prepared statement.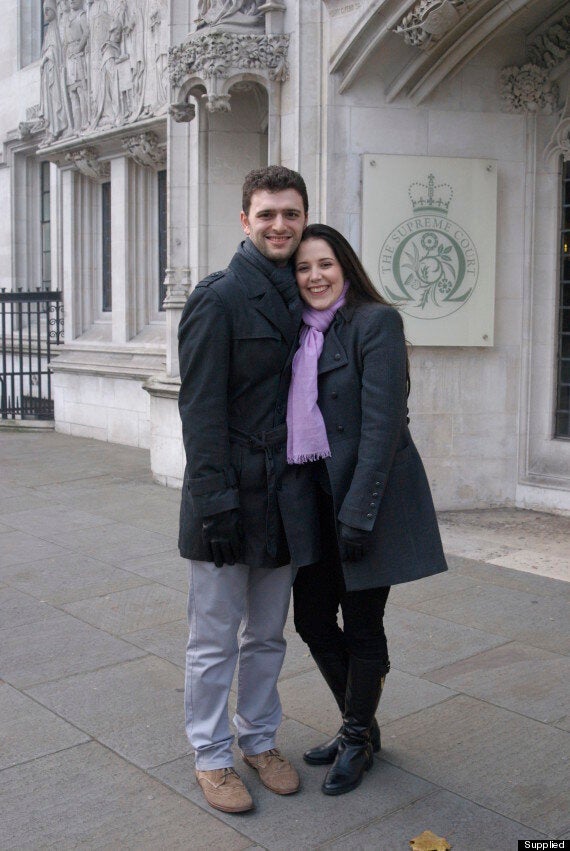 Louisa Hodkin wants to marry fiance Alessandro Calcioli in a Church of Scientology chapel
"I think the court's definition of religion is excellent. I think it's what most people today would understand 'religion' to be. I'm ecstatic.
"My fiance and I have always believed in the fairness of the British legal process. It's been a long and demanding journey, but the Supreme Court's decision today has made it all worthwhile.
"We are really excited that we can now get married, and thank our family and friends for all of their patience and support."
Local government minister Brandon Lewis said his department would be taking legal advice following the ruling.
He said: "I am very concerned about this ruling, and its implications for business rates.
"In the face of concerns raised by Conservatives in Opposition, Labour ministers told Parliament during the passage of the Equalities Bill that Scientology would continue to fall outside the religious exemption for business rates. But we now discover Scientology may be eligible for rate relief and that the taxpayer will have to pick up the bill, all thanks to Harriet Harman and Labour's flawed laws.
"Hard-pressed taxpayers will wonder why Scientology premises should now be given tax cuts when local firms have to pay their fair share.
"We will review the Court's verdict and discuss this with our legal advisers before deciding the next steps. However, it will remain the case that premises which are not genuinely open to the public will not qualify for tax relief."
Hodkin took legal action after the registrar general of births, deaths and marriages refused to register the London Church Chapel for the solemnisation of marriages under the 1855 Places of Worship Registration Act - because it was not a place for ''religious worship''.
Five Supreme Court justices analysed the case at a hearing in London in July and ruled in her favour today, announcing that the Scientology church was a "place of meeting for religious worship", because religion should not be confined to faiths involving a "supreme deity".
They said the Church of Scientology held religious services, therefore its church was a "place of meeting for religious worship".
In 1970 the Court of Appeal ruled that Scientology did not involve religious worship because there was no "veneration of God or of a Supreme Being". This year, Mr Justice Ouseley at the Court of Appeal said he was bound by that ruling.
Hodkin argued Scientologist beliefs and services had evolved during the past four decades, that services were ''ones of religious worship'' and likened Scientology to Buddhism and Jainism.
The ruling could have far-reaching effects for the Church of Scientology, who might now be entitled to ''tax breaks'' - because of rules governing places of public worship.
Hodkin's solicitor Paul Hewitt, a partner at law firm Withers, said: "The Supreme Court's judgment is a victory for the equal treatment of religions in the modern world.
"We are delighted at the outcome - it always felt wrong that Louisa was denied the simple right, afforded to members of other religions, to enjoy a legal marriage ceremony in her own Church."
Giving the main judgment of the court, Lord Toulson said Miss Hodkin was born and brought up in a family of Scientologists.
Her brother, David, was married at the Church of Scientology in Edinburgh, which was a valid marriage under Scots law because the registrar general for Scotland authorises ministers of Scientology to perform marriages in Scotland.
She and her fiance wished to be married in the church they regularly attend in Queen Victoria Street, London.
Lord Toulson said: "Unless there is some compelling contextual reason for holding otherwise, religion should not be confined to religions which recognise a supreme deity.
"First and foremost, to do so would be a form of religious discrimination unacceptable in today's society.
"It would exclude Buddhism, along with other faiths such as Jainism, Taoism, Theosophy and part of Hinduism."
He said that to confine religion to a religion which involves belief in a "supreme deity" leads into "difficult theological territory".
The court had heard evidence that "Scientologists do believe in a supreme deity of a kind, but of an abstract and impersonal nature".
Allowing Miss Hodkin's appeal, the court overruled the 1970 decision, declared that the chapel in Queen Victoria Street is a place of meeting for religious worship, and ordered the registrar general to register the chapel under the PWRA, and as a place for the solemnisation of marriages under the Marriage Act.