A man who was allegedly trying to steal fuel from parked cars while smoking a cigarette set himself and a number of vehicles on fire, police say.
The man is believed to have been attempting to siphon petrol from a vehicle in a private car park in Millicent, southern Australia, when he lit a cigarette.
Predictably, naked flame + fuel = bad news.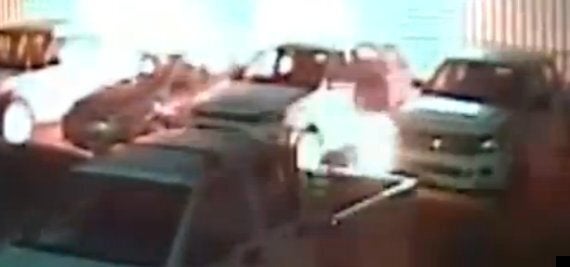 Don't try this at home: CCTV footage of the unfortunate episode
Police were called to the garage and found a man with burns to his legs and arms.
Car park owner Angus McDonald told Channel Ten Eyewitness News: "We were just so lucky. He was trying to get the fuel out of the car by punching a hole in the tank – that's when the explosion happened.
"There's about $110,000 worth of cars that have been lost and there's a bit of damage to the walls. We were very lucky the workshop didn't catch fire because there's cars just over the other side of the wall."
A 26-year-old man has been arrested and charged with arson and illegal interference with a motor vehicle.