Hurricane-force gales! TORRENTIAL DOWNPOURS! FRENZIED STORM SYSTEMS!HORRIFYING ONSLAUGHTS!!!
The meteorological-madness mongering mouthpiece is back with another weather report designed to make you give up hope of surviving winter, despite assurances from the Met Office that weather forecasts beyond five days are notoriously unreliable.
And oh my, this one is a cracker. Just look at it and try not to google "ski shoes" with your mitten-clad hands.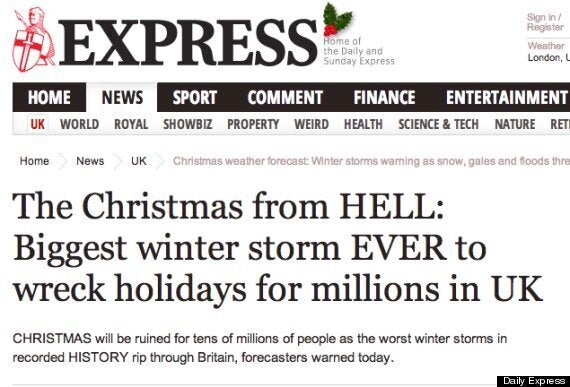 And excuse us for being pedantic but wouldn't a 'Christmas from Hell' be a touch on the toasty side?
Even the Daily Sport agree....
Anyway, the Express's long-range forecasts (LRFs) predict a Christmas ruined by 900mph gales, torrential downpours, all with the kind of language and headline placement that suggests certainty of events.
If there were lessons to be learned from long range predictions over recent years, one is that VWS's seasonal forecasts are based on searching for trends and patterns in historic data, using many algorithms to create projections, all not necessarily reaching the same outcome. What it doesn't account for is the random element, the element that gave us the fine run of summer weather for instance. In essence, LRF's are overviews only, a guide, but nothing more.
The HuffPost UK rang the voices of reason at the Met Office to calm our frayed and frozen nerves who assured us predictions that far ahead simply can't be accurate enough to say for certain.
A spokesman said: "I've got charts until Tuesday, we don't go any further than that because the uncertainty increases so much.
"It's just not possible to forecast that far ahead and give detail about the speed of winds and track of a storm."
So calm down folks, we're probably going to get some wintry weather.
Popular in the Community