Scottish independence is a "folly on a grand scale" that would significantly weaken global influence, Sir John Major told MPs.
The Conservative former prime minister said the UK would understandably be seen overseas as "damaged and diminished".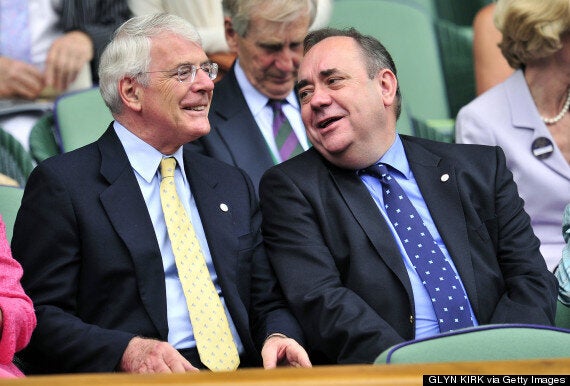 John Major and SNP leader Alex Salmond share a non-independence joke at Wimbledon in 2011
Britain's place on the United Nations Security Council would be "open to doubt" and its voice on other international bodies weakened if there was a "yes" vote in next year's referendum, he suggested.
He issued a stark warning to the Scottish National Party that it faced a decade-long fight to be admitted to the European Union as a separate member state.
And he renewed his warnings over the impact of any referendum on the UK's membership of the EU - saying quitting Brussels would also represent a huge blow to influence.
Appearing before a House of Lords committee, the 70-year-old former premier cited boyband One Direction as one of the British exports which help give Britain an enviable standing across the world.
Television costume drama Downton Abbey and singers Adele and Susan Boyle were also on his list of cultural successes which "reflect a rather favourable impression on Britain".
Alongside language, democracy, the rule of law, the monarchy, the BBC, the Financial Times and the City of London as a financial centre, they had helped create an unrivalled profile, he suggested.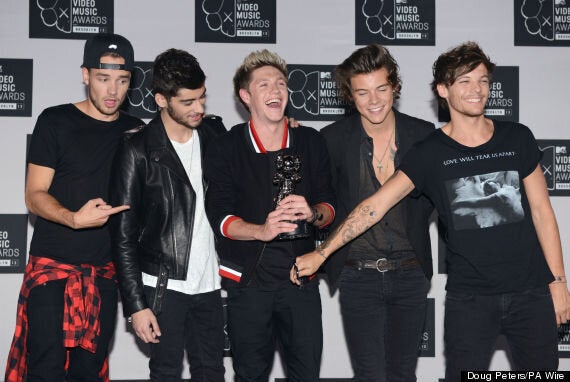 One Direction - a good reason for keeping the Union?
But - giving evidence to an inquiry into the role of "soft power" - he launched a strong attack on the idea of Scottish independence, which will be put to the vote north of the border in September 2014.
Sir John said he spent many months of the year travelling to all parts of the globe and that the issue was increasingly a concern.
"It has come up in the Far East, it has come up in a number of countries. Simply because they would perceive a country that was damaged and diminished if a chunk of it voluntarily chose to leave," he said.
"They are baffled as to why they should do so but they do observe that if that happened it would diminish us in their eyes."
He went on: "In every international gathering that there is, the voice of Britain would not be growing stronger - as it should be as the economy improved - it would be growing weaker because we would have had a political fracture of a most dramatic nature and that makes people wonder about the stability... What would happen to Wales, what would happen to Northern Ireland?
"These are acute worries."
The former PM noted the decision to hold the vote on the 600th anniversary of the Battle of Bannockburn - pointing out next year was also the centenary of the start of the First World War.
"How odd it would be, if on the 100th anniversary of a war in which the Scots, Irish, English and Welsh fought together, that we would celebrate that anniversary as separate countries," he said.
"It seems to me to be folly on a grand scale for anyone even to contemplate that."
He dismissed as a "fallacy" the contention that Scotland could retain its EU membership without having to reapply as a new state.
"I'm sure they would get in but it would take them 10 years - and who knows what conditions of entry they would get," he said.
And he took a swipe at proposals to retain the pound as the currency north of the border.
"They say casually that they would use sterling. Well, that's not their decision.
"And if they think they are going to use sterling as a temporary interregnum for 10 years while they get themselves into the European Union, well, I don't know what the Prime Minister and Chancellor can say but I know very clearly what I would have said."
Speaking about the role of culture in enhancing the UK's global standing, he told the peers: "We've had over 20 British albums top the charts in countries around the world.
"It's not just the established stars like The Beatles and the Rolling Stones - you have Adele, One Direction and Susan Boyle.
"Wherever you go they are household names and they have an implication for perception and thus for soft power."
"That is a background that few countries can manage in terms of profile and that is important for our diplomacy."