A man's severed hand has been successfully reattached – after doctors grafted it to his ankle for a month.
Xiao Wei's right hand was sheared off after an accident at work in November.
Wei was rushed to a local hospital in Changde, Hunan province, but doctors said they were unable to save the limb.
Scroll down for more pictures Xiao Wei's severed hand was attached to his ankle while his other injuries were being treated
However medics at a larger hospital in neighbouring Changsha were more optimistic, though they opted to attach it to his ankle while they treated his other injuries.
Wei's doctor told Rex Features: "His injury was severe. Besides ripping injuries, his arm was also flattened. We had to clear and treat his injuries before taking on the hand reattachment surgery."
Of his accident, Wei said: "I was just shocked and frozen at the spot, until co-workers unplugged the machine and retrieved my hand and took me to the hospital.
"I am still young, and I couldn't imagine life without a right hand."
Nearly a month after his hand was severed, Wei had recovered sufficiently to undergo reattachment surgery.
According to doctors he will need to undergo several other procedures, but they are hopeful that he will regain full function of his hand.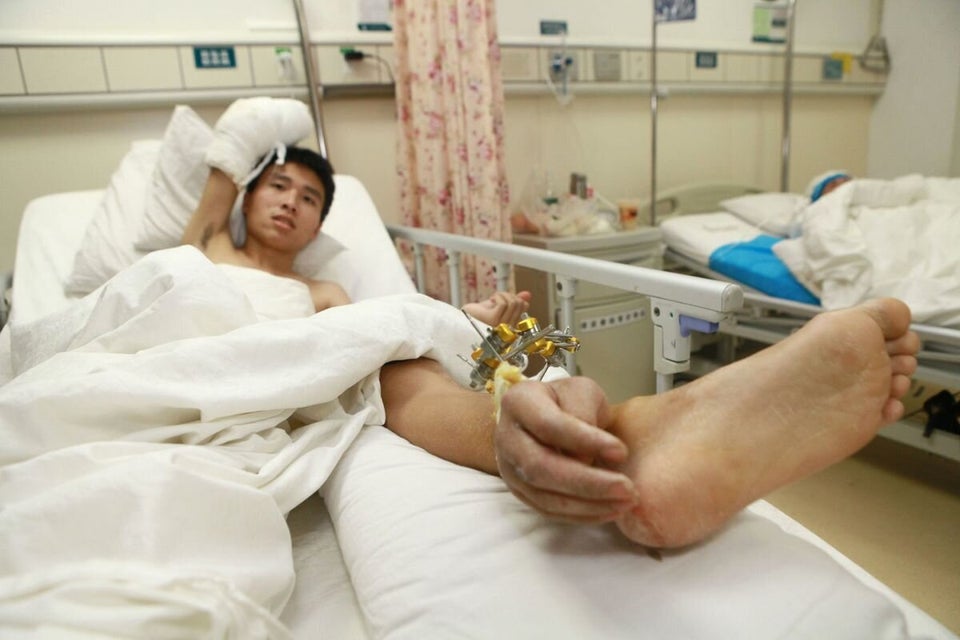 Severed hand
Related