Detectives leading the murder inquiry into the disappearance of Jayden Parkinson have appealed to the consciences of several people they believe may hold clues to solving the case.
Detective Chief Superintendent Andy Murray, of Thames Valley Police, said he thought there were "a number of people" in Didcot, Oxfordshire, where the 17-year-old was last seen, who could have "significant information" regarding the inquiry.
Murray said there were now more than 100 uniformed officers and detectives working on the case, backed up by specialists from the National Crime Agency.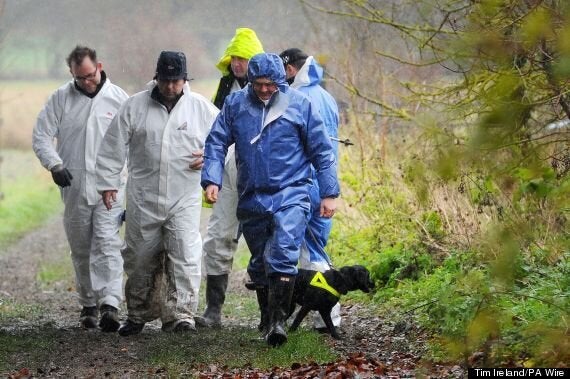 Police officers in Upton, Oxfordshire, as Thames Valley Police continue to search for missing teenager Jayden Parkinson
He thanked local people for their continuing co-operation with the searches but reiterated an appeal to people not to embark on their own efforts to look for Jayden.
Murray said the police searches would continue "for as long as it takes".
Asked if detectives were looking for anyone else in connection with their inquiry, he said officers had an open mind and would "go where the evidence takes us".
"I think there are other people that can help us with the inquiry and what they need to do is pick up the phone and tell us what they know," he said.
"If they haven't the courage to do that, they should ring Crimestoppers' number."
Jayden has now been missing for two weeks and was last seen leaving the town's railway station at about 4.30pm on December 3.
Mr Murray said: "I think there are people out there that can significantly help us with this inquiry.
"I do ask that they examine their memory and, if needs be, their conscience.
"Think about Jayden's family who are living a nightmare in the run-up to Christmas.
"If you've got anything significant to say, pluck up the courage to say it."
He urged anyone with any piece of information, no matter how insignificant it may seem, to call the police on 101 or contact Crimestoppers, anonymously, on 0800 555111.
He added that since Jayden's disappearance there had been "no indication that she's alive", and appealed to the public to get in touch if they remembered seeing the teenager "on her own, or in the company of anybody".
Murray also repeated an appeal for any information about a man seen struggling with a suitcase just outside the village of Upton, near Didcot, in south Oxfordshire, at about 2am, on December 9.
The same man was later then seen with the same suitcase in the Lydalls Road area of Didcot at about 3.30am.
He said detectives had since recovered several suitcases, one of which "may well be significant".
However, he said there was not yet any evidence to link those suitcases with any degree of certainty to Jayden.
Earlier today, Jayden's former boyfriend, 22-year-old Ben Blakeley, of Christchurch Road, Reading, Berkshire, appeared at Oxford Crown Court charged with her murder and perverting the course of justice by disposing of her body and lying to the police about the last time he saw her alive.
A 17-year-old, who cannot be named for legal reasons, has also appeared before Oxford magistrates charged with perverting the course of justice between December 3 and December 10 by assisting in the disposal of Jayden's body and other evidence.
Murray said extensive searches at addresses connected to the pair were continuing, together with further searches of two areas on either side of Lydalls Road, Didcot.
Specialist police search teams are also continuing to sift through a 1.25 mile-wide rural area of wood and farmland on the outskirts of Upton village, including some derelict agricultural buildings, in what was described as a "challenging" environment.