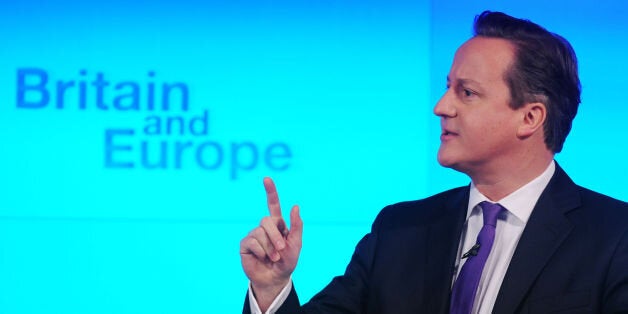 The Romanian ambassador has hit out at the "vilification" of his countrymen amid growing calls on the Conservative benches for Romanians and Bulgarians to be banned for five years from given full European Union rights to live and work in Britain.
On January 1 2014 the transition controls that prevent Romanians and Bulgarians from settling in the UK in the same way the French or Germans can will come to an end. Ukip has exploited fears over a flood of migrants to fuel its surge in the polls.
And at least 73 backbench Tory MPs, in part spooked by the rise and rise of Nigel Farage, have demanded David Cameron's flagship Immigration Bill be amended to extend the ban until 2019. The proposal will be debated in parliament this afternoon.
Writing for The Huffington Post UK, Nigel Mills, the Conservative behind the amendment, said the UK's job market and welfare system was not in a position to handle the unknown number of immigrants and there was "no other solution" than to keep the drawbridge raised.
However the Romanian ambassador to Britain, Dr Ion Jinga, has insisted that it was likely fewer Romanians would decide to move to the UK in 2014 than in previous years.
Also writing for The Huffington Post UK, the ambassador said: "Most of Romanians who came to the UK did so for work, not for benefits. We plead in favour of honest, hard working people, who pay taxes and contribute to the society."
And he also warned British voters they could not have it both ways. "No one in the EU migrates more than Britons do," he said. "According to a 2011 World Bank report, 4.7million British people live outside their own country, and almost half of them have settled elsewhere in the EU.
"There are thousands of Britons who work in Romania. If you demand the right to seek work in someone else's country, they should be able to do the same in yours. That is only fair."
Jinga said that further "vilification" of Romanians could end up putting off Europeans from wanting to move to Britain, leading to large number of job vacancies in financial services, IT, research or the NHS.
Today's Commons debate, led by MIlls, was scheduled after Cameron's flagship Immigration Bill went AWOL. The prime minister had previously described the legislation as the centre piece of his agenda and boasted it would prevent migrants from being able to move to the UK and "expect something for nothing".
However perhaps unwilling to have to suffer a huge rebellion from his own benches, and unable to agree to the amendment given it would go against one of the founding principles of the EU, the Bill has not returned for further parliamentary scrutiny before Christmas as expected. Imposing a ban on the free movement of labour would also be a no-go as far as Nick Clegg and the Lib Dems were concerned.
Writing for HuffPost UK today, Mills said: "It would have been far better for the standing of parliament for us to have had the chance to challenge the government's position and have a vote before the restrictions are lifted - but at least the debate today will allow us to test the government's position in some more detail."
Conservative MPs point to Labour's wild underestimation of the number of Polish immigrants that would move to Britain after transition controls were lifted in 2005. They do not want the same to happen again and are reported to have challenged Cameron on the subject during a meeting on Wednesday evening.
Mills said: "We should be entitled as a sovereign Parliament to say that we made a mistake, we've changed our mind and these restrictions need to stay in place, at least until our economy has sufficiently recovered."
"The only way to deal with that is to keep the restrictions until our economy has recovered or until a longer term solution is found. And so, even at this very late stage, I urge the government to keep the restrictions on Romanian and Bulgarian migration for a further five years - I can see no other solution," he said.
Popular in the Community