It's been a funny old fortnight. First, cinema-goers were shocked to sit through two and a half hours of the vitality of Nelson Mandela's life at the premiere, only to learn as the credits rolled that the great man had just died.
Today finds us waking to the news that Great Train Robber Ronnie Biggs has gone, with a new two-part drama retelling his infamous tale already in the TV schedule for tonight... Here are our TV picks:
The Great Train Robbery - 8pm, BBC1
One of the country's most notorious crimes is given a very fresh airing by 'Broadchurch's creative mastermind Chris Chibnall. In this high-quality two-parter, he approaches the story from two polar perspectives. Tonight's debut is told through the eyes of the robbers themselves, as they set about targeting, planning and carrying out what was meant to be a simple robbery from the Glasgow to Euston mail train. Until it all went a bit wrong, the driver was attacked, and the gang members became some of the most famous fugitives in the land.
Although Biggs and Buster Edwards became the biggest names, it was Bruce Reynolds who masterminded the heist, and 'Hobbit' star Luke Evans is on stunning form here. Chibnall doesn't shy from the thuggery of the men, either. The coppers' version of events is on tomorrow. Pictures below...
The second, and concluding, part of this engrossing drama, penned by Jeff Pope (currently enjoying Golden Globe nomination success for his 'Philomena' script), finds the Luckless Earl (Rory Kinnear) on the run after murdering his children's nanny, in error, and attacking his wife Veronica. There's no more pathetic sight than a once dapper gentleman gone to seed, and Kinnear perfectly charts this decline.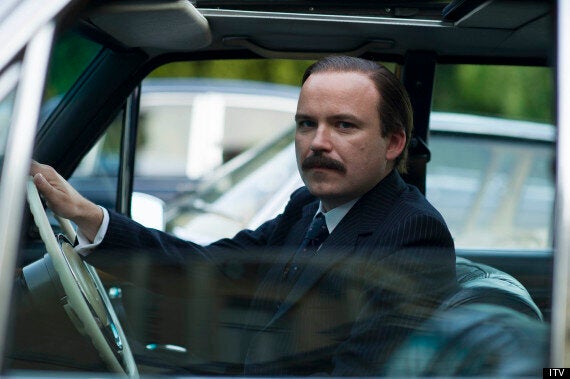 Rory Kinnear as a man whose luck has most certainly deserted him
No such collapse for his friend John Aspinall (Christopher Eccleston), however, who swiftly recruits his Clermont Club regulars to decide how they should respond, and more importantly BE SEEN to respond, to the strange turn of events, which would all too soon turn into one of the era's most tantalising tales - up there with The Great Train Robbery itself.
Popular in the Community