Heather Mills, the former model and ex-wife of Sir Paul McCartney, is facing a fine of up to £835 and referral to the International Paralympic Committee's Legal and Ethics Commission after a furious row which ended her hopes of representing Great Britain at next year's Winter Paralympics in Sochi.
The 45-year-old announced on Monday that she had been forced to abandon plans to go to Sochi after the IPC ruled a new prosthetic she was using had not been ratified. The British Paralympic Association subsequently withdrew its application for a bipartite place at the Games which it had made on Mills' behalf.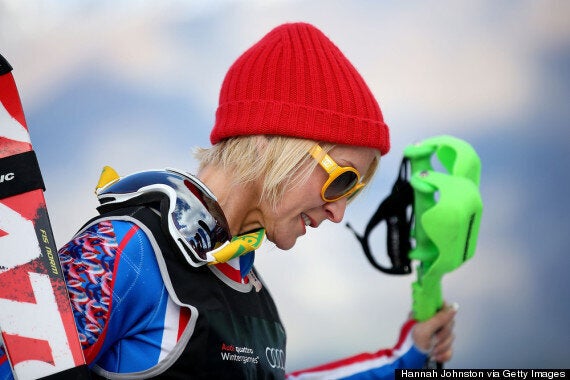 Heather Mills had been hopefully of a place in the Paralympic Ski Team
The IPC's director of communications Craig Spence revealed details of the incident at an Austrian hotel in which it is alleged Mills "broke into a rage", lunged at a leading IPC official and screamed insults before being restrained.
Spence said Mills had turned up uninvited to a competition technical meeting in which Mills' use of an unratified prosthetic was on the agenda.
As a result of the meeting, which included a Skype call to which Mills was not party, it was agreed that if Mills filled in an adaptive equipment form and the prosthetic's supplier agreed to any liability in case of an accident, it would be considered for approval.
However, according to Spence, when IPC Ski Committee head Sylvana Mestre attempted to explain the situation to Mills, "she had only got as far as saying 'your boot has not been approved', when [Mills] flew into a rage."
Spence added to Press Association Sport: "She was screaming, 'you're a bitch, you're a bitch, you don't know who I am, I'm going to make your life miserable.'
"Sylvana tried to walk away and Heather moved and grabbed at her and had to be restrained by the British coach.
"Heather has subsequently claimed in her statements that she has got an injury caused by the IPC forcing her to wear a heavier boot, but as far as we're aware she has been using the unapproved boot all season.
"We had notified her and her coach that if she continues to compete on that boot she would be disqualified but that her results from the season and Monday would still stand. Heather's subsequent statement that she had been disqualified is nonsense."
Spence confirmed Mills' has now lost her chance of going to Sochi even in the unlikely event that she should have a change of heart, due to the removal of the request for a bipartite place which is reserved for athletes restricted from qualifying due to injury or other unique criteria.
Spence added: "We are going to fine her between 500 and 1000 Euros for her outburst this week and we will also refer the situation to our legal and ethics commission.
"They could decide to take no further action, they could increase the fine or they could come up with a whole new punishment. There is a whole range of actions they could decide to take."