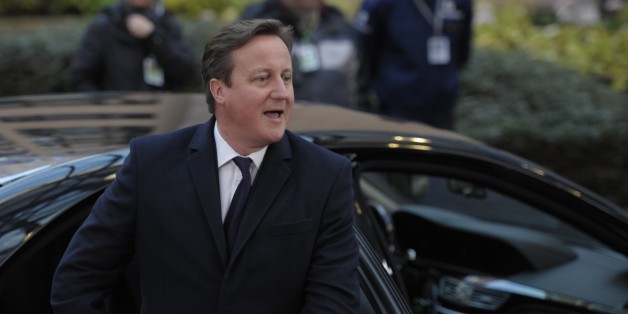 ALAIN JOCARD via Getty Images
The TWO things you need to know on Friday 20 December 2013...
1) THE END OF FREE MOVEMENT IN THE EU?
You might know that Dave wants to overhaul the UK's relationship with Europe ahead of an in/out referendum in 2017; you might not know that his renegotiating plan involves killing off the principle of 'free movement of labour' inside the EU. The PM is in Brussels today and the Times has the details:
"David Cameron will today demand strict controls on countries trying to join the European Union in an attempt to head off a future influx of migrants from Eastern Europe.
"The Prime Minister will use a gathering of European leaders to warn that the movement of workers from countries such as Serbia and Albania must be significantly restricted before they are handed EU membership.
"It marks the latest attempt by Mr Cameron to lobby for a revision of the EU's free movement rules, which allow workers from poor states to migrate at will across Europe."
The paper says Dave "will effectively have to hijack today's talks to raise his concerns" while a diplomatic source tells the Times: "The Prime Minister will say that he is a firm supporter of enlargement, but we have to realise that when the EU was established and the treaties were signed, people did not expect it to bring the sort of mass-migratory movements it has. When we look at future countries joining, we should think about how we address some of those issues."
What was it that US commander is said to have remarked in Vietnam? We have to destroy the village to save it?
Note: I'm going to be taking a break from doing this Morning Memo email until the New Year. Everyone needs a holiday - myself and Ned Simons, who occasionally subs for me on the morning shift, included. Thanks to you all for subscribing and reading and, also, for your positive feedback. Tens of thousands of you now read the Morning Memo email - to you all, let me say this: have a Merry Christmas and a Happy New Year!
2) ED PICKS A FIGHT. AGAIN.
In October, it was the energy companies. Then earlier this week it was the property developers. Now the Labour leader has his eye on a new opponent, a new 'epidemic' - and the Mirror has the details:
"Ed Miliband today vows to rid Britain of controversial high-stake gaming machines.. the Labour leader says he will bring in laws allowing councils to ban fixed-odds terminals from betting shops. Punters can lose up to £100 every 20 seconds on the machines – branded the "crack cocaine" of gambling... Mr Miliband said the next Labour government will change planning and licensing laws to give ­councils the right to control the number of betting shops in their area. New laws would also give councils the right to revoke or reduce the number of machines in each shop."
Last night, at Miliband's crowded Christmas drinks in Westminster, one senior member of his team told me how 2013 had been the year in which their man had gone from being a "no hoper" with "no chance of being PM" to now being grudgingly accepted by the press as the favourite come 2015.
BECAUSE YOU'VE READ THIS FAR...
Watch this video of the trailer for the new documentary on Mitt Romney - it includes a bizarre shot of the former GOP presidential candidate trying to iron his suit while wearing it (!)
PUBLIC OPINION WATCH
From the latest Sun/YouGov poll:
Conservatives 39
Labour 34
UKIP 12
Lib Dems 11
That would give Labour a majority of 60.
900 WORDS OR MORE
Polly Toynbee, writing in the Guardian, says: "Charity is a fine thing, but it can't justify the wealth of the 1%."
Fraser Nelson, writing in the Telegraph, says: "How Britain made it through 2013, the year of living dangerously."
Philip Collins, writing in the Times, says: "A History Boys education is not for everyone."