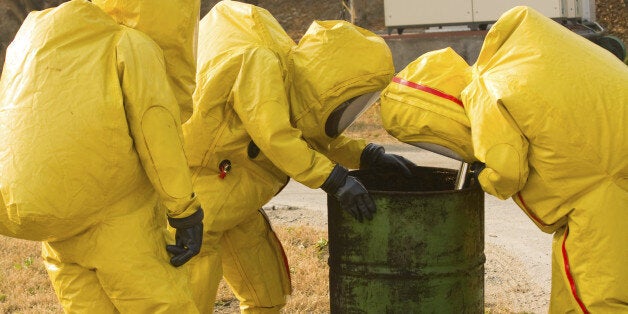 Some 150 tonnes of industrial-grade chemicals are to be shipped from war-torn Syria to a British port to be destroyed, it has been revealed.
A foreign office spokesman has stressed that the chemicals, which are routinely used in the pharmaceutical industry, only become toxic when mixed with other "precursors".
It is not yet known what port the chemicals, which do not contain explosives, will be shipped to.
The Foreign Office said the chemical "B precursors" will be shipped with suitable off-loading equipment before being transferred to a commercial site where they will incinerated.
A spokesman said the chemicals become toxic only when they are combined with an "A precursor" to make a nerve agent.
"To eliminate this risk, the A and B precursors will be removed from Syria separately," the spokesman said.
"It is important to stress that these are chemicals, not chemical weapons. They do not contain explosives. The chemicals will be sealed in standard industrial containers to international standards and under the supervision of OPCW (Organisation for the Prohibition of Chemical Weapons) inspectors."
The British contribution is part of an international effort to dispose of Syria's chemical stockpile following the agreement by Assad to give up his weapons in a deal brokered by the United States and Russia.
The Government is providing a Royal Navy warship to help protect the Danish and Norwegian cargo vessels which will ship the entire stockpile out of Syria as they are sailing through international waters.
It is also providing specialist equipment to the United States to assist in the treatment of the most sensitive chemicals before they are finally destroyed.
"The international mission to destroy Syria's chemical weapons programme is essential to ensure that Assad can never again use these horrific weapons to murder his own people," the Foreign Office spokesman said.