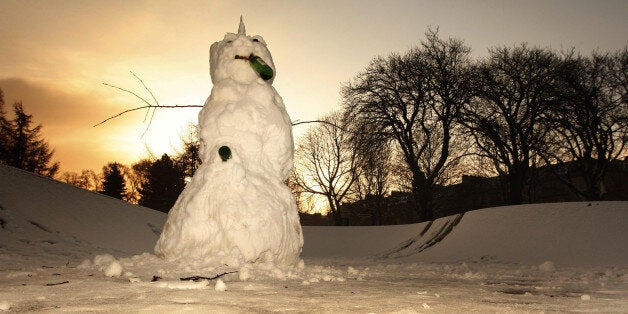 It might feel a long way off in today's wind and rain, but a white Christmas could be a reality this year.
Forecasters say that by Christmas Eve, temperatures will have dropped, and wintry showers could cover parts of Britain in snow on December 25.
It has led Ladbrokes to halve the odds it is offering on a white Christmas from 12/1 to 6/1.
Eddy Carroll, chief forecaster with the Met Office, said: "We can expect stormy weather in many areas to start the Christmas week, but looking forward to Christmas Eve and Christmas Day we are expecting it to turn colder, with a mix
of wintry showers and sunny spells but for wind speeds to drop.
"So there is a chance that some places may see a White Christmas."
Officially, a white Christmas is defined as just one single snowflake falling from the sky.
But those hoping to bring the sledge down from the loft or dress a snowman with scarf and hat might be a little disappointed - unless you live in the mountains of Scotland.
"It's not going to be cold enough for widespread snow, it's more of a showery picture," said Chris Burton, from weather forecasters MeteoGroup.
"There will be a bit of sleet and snow on the higher ground, such as the hills of Wales and in northern England, and wintry showers will be heavy in the mountains of Scotland.
"But it's probably not going to be a white Christmas in central London."
Before the dreams of Bing Crosby are answered there is some bad weather for the UK to negotiate.
Much of the weekend will be cool and showery, the Met Office said, with low pressure developing over the Atlantic on Sunday and passing to the north west of the UK on Monday and into Tuesday.
That low pressure will bring widespread strong winds and heavy rain from Monday morning for 24 hours, and the Met
Office has issued severe weather warnings for wind and rain across the South West and northern areas of the UK for the next few days, bringing the possibility of flooding.
Ladbrokes had been offering 12/1 for snow on Christmas Day in London as recently as Friday morning but those odds have been slashed to just 6/1 in little more than 24 hours.
David Williams of Ladbrokes said: "We thought we'd dodged the snowball but now we're not so sure. Earlier in the week we'd all but written it off but the last 48 hours have seen the biggest snow gamble for ages."
Edinburgh and Glasgow have also been cut to 5/2 to see snow on Christmas Day and Manchester has odds of 3/1. Belfast and Dublin are both 4/1.