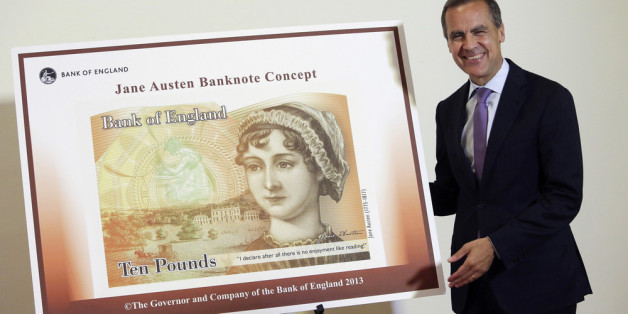 Pool via Getty Images
Bank of England officials considered featuring Admiral Horatio Nelson and Edward Jenner, pioneer of the smallpox vaccine, on future banknotes instead of Jane Austen and Winston Churchill, the Huffington Post UK can reveal.
This comes after the Bank of England refused to disclose they had considered Admiral Lord Nelson and Jenner in an April 2012 meeting as the two other candidates alongside Churchill and Austen, who were chosen as "contingency characters" for future print runs of UK banknotes.
The Bank revealed this April that Churchill would start featuring on new £5 polymer banknotes from 2016, while then governor Mervyn King hinted at Austen's "contingency" status when he told MPs that Austen was "waiting in the wings" to be featured on UK £10 banknotes.
The decision to include the 19th century author on £10 banknotes from 2017 was confirmed by King's successor Mark Carney this June.
Back in September, Bank Secretary John Footman directed bank officials to avoid revealing the identity of the other two candidates in order to protect the "free and frank provision of advice".
"Inevitably publication of the remaining names on the 2012 shortlist would create a presumption in the public mind that these would be the next to appear on a banknote, and that the Bank's mind was therefore closed to further suggestions," the Bank said.
Bank officials could likely have been reluctant to reveal who they considered alongside Austen and Churchill for inclusion on future banknotes as they were both male.
Bookies Paddy Power estimated the likeliest candidates for inclusion on banknotes were Sir Alexander Fleming (7/1), followed by Charles Babbage (8/1), William Morris (11/1) and Lord Ashley Shaftesbury (12/1).
The Bank has compiled a list of suggestions from the public here, from which they pick who to consider for future inclusion.
HuffPostUK has compiled a list of women who could follow Austen onto future banknotes