This is the heart-rending moment a dying cancer patient bid farewell to the beloved dog he'd owned since childhood.
The touching image of Mike Petrosino and 10-year-old Rusty was posted on Reddit on Friday and has since gone viral.
It comes as doctors announced the 21-year-old is not expected to live to see the new year.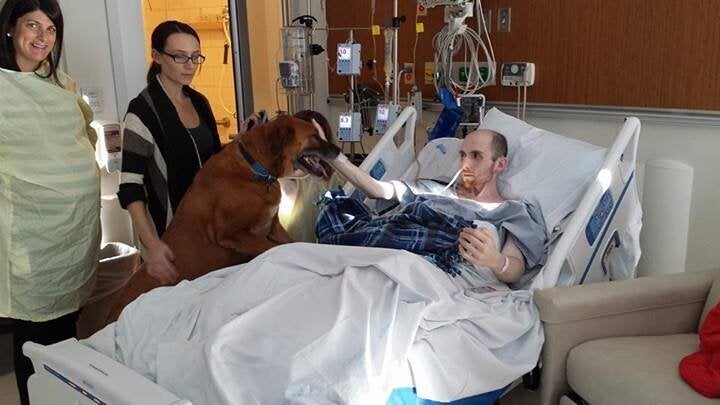 Cancer patient Mike Petrosino bids farewell to Rusty in Massachusetts General Hospital on Friday
Entitling the post: "My friend saying goodbye to his dog", user 7thEvan wrote: "My friend Mike was diagnosed with cancer in the 8th grade. He was given a 3% chance to survive the first year.
"Two days ago we found out that after 8 years, the amputation of his leg, and four rounds of cancer that there's now nothing that they can do.
"This picture was taken by his brother yesterday."
"I just got back from Mass General and got to say goodbye with a bunch of old friends," he added in the comments. "He's the bravest guy I've ever met and all he did the entire day was make sure everyone else was okay."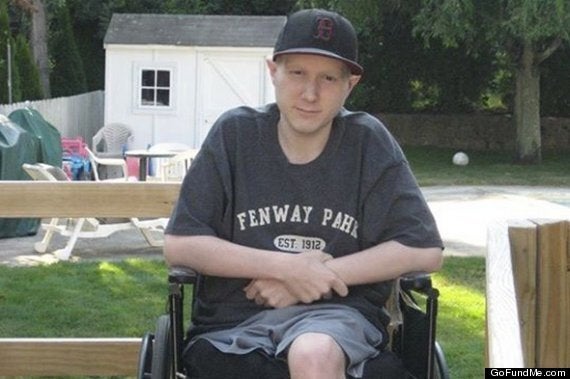 One of Mike's leg's was amputated in an attempt to contain the cancer
"Rusty was very emotional when Mike said his final goodbye.
"Every time I come home these past two days, he sits near Mike's favourite couch and whines, which is rare for him."
His mother writes: "He is the strongest person I know and he is my hero."
Popular in the Community