A Ryanair passenger has revealed how a steward repeatedly screamed "fuck you" at him during an incident which began after he rejected an "overpriced" snack.
Nadir Morris was flying from Stansted to Pisa when he politely attempted to hand back his unopened crackers and cheese after learning they would cost £4.20.
He told The Sun the steward responded by snapping: "This money helps pay for your cheap flights."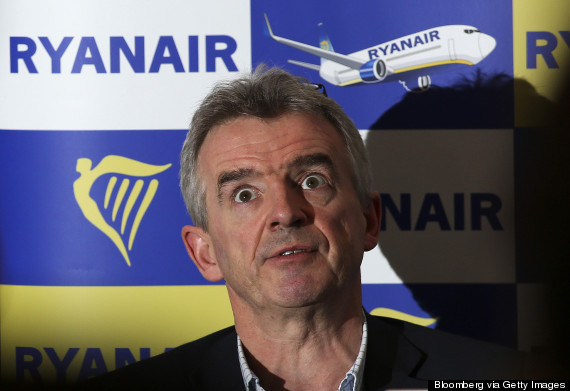 Ryanair boss Michael O'Leary recently promised to tone down the airline's 'macho' image
Upon landing, Morris asked the man's name in order to make a complaint, upon which point he claimed the steward began swearing and attempted to shove him off the plane.
The 45-year-old supplied this audio to the newspaper in which the man, who was apparently aware he was being recorded, can be heard screaming: "Fuck you, fuck you, fuck you. You happy now? Record again, fuck you."
Ryanair spokesman Robin Kiely told HuffPost UK in a statement: "We were disturbed by this report of such totally unacceptable behaviour.
"While we are investigating this incident, the individual in question has resigned from Ryanair. We sincerely and unreservedly apologise to the passenger in question."
The incident comes three months after outspoken Ryanair boss Michael O'Leary promised to be "nicer" to customers.
"We should try to eliminate things that unnecessarily piss people off," the Ryanair chief admitted at his company's annual general meeting in September, after shareholders complained that the airline's reputation was hitting sales.
After recent reports including the airline's initial refusal to provide a refund for a dead passenger, the shareholders' argument must have worked as O'Leary promised an end to the airline's "macho" culture.
"I am very happy to take the blame or responsibility if we have a macho or abrupt culture. Some of that may well be my own personal character deformities," he said.
O'Leary further defended the airline's reputation in November when he insisted it had always been "cuddly".
Speaking on CNBC as he revealed the airline had seen profits rise for the first half of 2013, he said: "I think we have always been cuddly."
"We've been famed for our cuddliness. There's some kind of a media creation out there that we're running around abusing passengers. If you did you wouldn't grow to 81 million passengers."
Ryanair transported 49 million passengers in the first six months of 2013, and made €602 million profit, which marks a 1% increase over the last year.
The budget airline also announced its best November on record, carrying 5.2 million passengers last month.
Ryanair's total was 6% higher than in November 2012, taking the passenger total for the 12 months up to November to 81.2m, a new high. The planes were also 81% full when flying, compared to 80% last November.