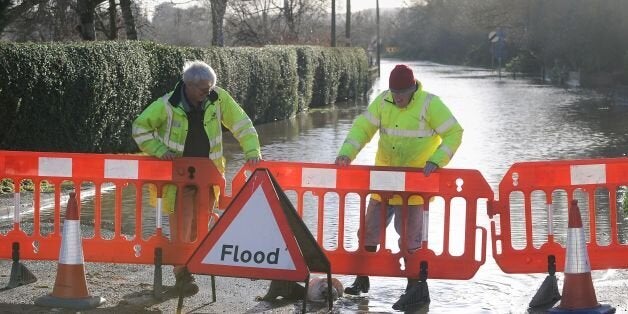 A major power company is offering to pay for Christmas dinner in local pubs or restaurants for people whose supplies remain cut off today.
It said its engineers were working to reconnect everyone else, with supplies restored to the vast majority by last night and repair work continuing throughout Christmas Day and Boxing Day.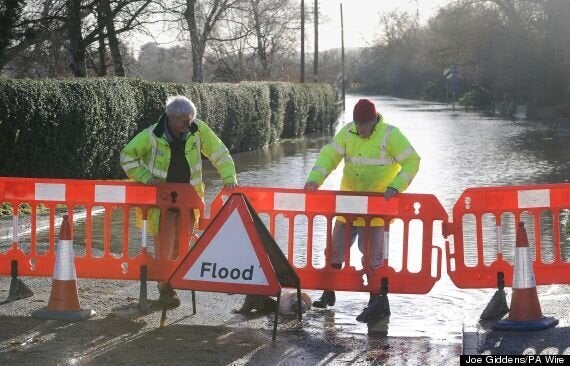 Workers from the Worcestershire Highways Department place barriers in front of a flooded road in Fladbury, Worcestershire
But the company said yesterday: "If your power is still off at midnight, it's likely you will be off on Christmas Day so you should consider making contingency plans now."
With that in mind, UK Power Networks said it was appealing to restaurants and pubs in areas still affected by the storm "to let us know if they have any availability to accommodate our customers should they still be without power from the storm tomorrow".
Venues can email SDCSupportContact@ukpowernetworks.co.uk or call 0800 028 0959.
Customers can contact the company on 0800 783 8838 (East) or 0800 783 8866 (South East).
Company spokesman Matt Rudling said: "We're conscious that a few people's Christmas dinners are going to be ruined so we're trying to find ways we can help."
He said the company would "foot the bill" to the tune of £40 per customer.
The company said it was also working with local authorities to provide help centres if they are needed.
Storms have caused widespread disruption across the UK.
On Christmas morning, around 90 people were evacuated from their homes on the River Stour near Bournemouth.
Thousands of people face a cold and wet Christmas after storms caused widespread flooding and power failures across the UK.
Scores of homes have been left under water and tens of thousands will endure a Christmas Day without electricity after torrential rain lashed the country.
The Coastguard rescued 76 people from a caravan park that was flooded by the River Medway at Yalding in Kent last night.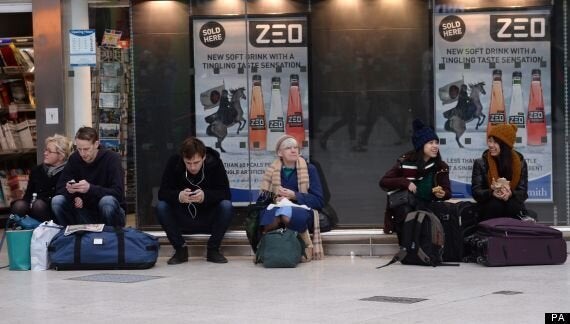 Passengers wait at Waterloo Station, London, following a night of widespread storms
Officers have been monitoring the levels of the River Stour closely for the last 24 hours and people living in the threatened areas were warned of the possibility of flooding and evacuation.
Travellers trying to get home on Christmas Eve also battled treacherous conditions on the roads and suffered major delays as the rail network was brought to its knees.
There was chaos at Gatwick Airport in West Sussex after a power cut at the North Terminal led to cancellations and delays, leaving thousands of passengers stranded. The airport said last night normal service would resume today.
Five people have have also died in the last three days because of the violent weather.
The EA said that by last night 150 properties had been flooded in England, mainly in the south and focused in Surrey and Kent, with numbers expected to rise.
Firefighters in the two counties broke a five-hour nationwide strike last night to help deal with the effects of the storms.
Airline easyJet said it would be operating a limited number of flights from Gatwick Airport today to replace ones that should have operated yesterday.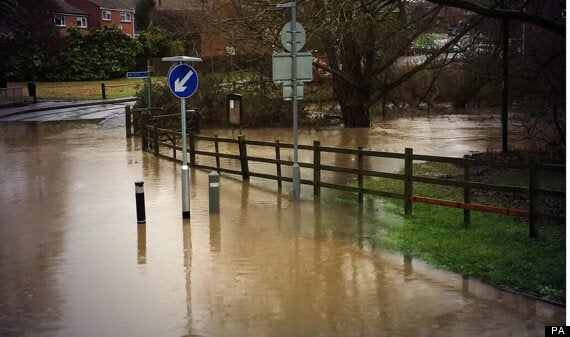 Flooding in Mallards Way, Maidstone, Kent
These include flights to Faro, Basle, Malaga, Alicante and Amman, while passengers from a cancelled flight from Gibraltar to Gatwick will be travelling on one from Malaga today.
EasyJet said it would be unable to schedule any further flights today because of limited capacity at airports and crew availability.
A spokesman said: "Due to the high amount of cancellations that were unavoidable on the 24th, we are currently working on a plan to repatriate all passengers back to their destinations as soon as possible.
"But please be advised this may take a couple of days whilst the programme resumes to normal operation from Thursday."
Popular in the Community