Flooding misery for thousands of homeowners is expected to continue after weather forecasters predicted further wind and rain across the UK.
Around 1,000 in southern England have been flooded while it's believed some 24,000 properties are still without power. Engineers have said that many will not be reconnected before the end of the week.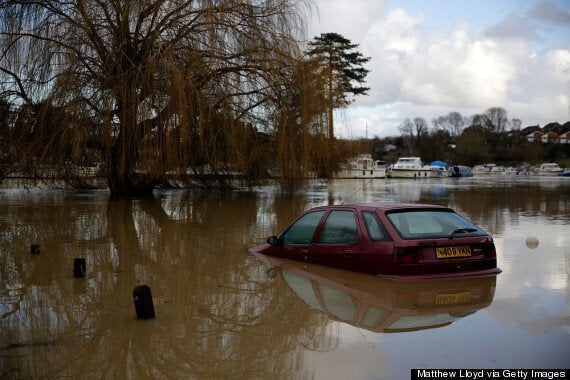 The bad weather has left thousands of people without power and caused severe transport problems
The Met Office has warned of another storm coming in from the Atlantic that is expected to reach the country on Thursday night and which could bring an inch of rain and gusts of up to 70 mph.
All of the UK is expected to be affected apart from the East Midlands and East Anglia.
Some 43,000 properties across the UK are still without power, the Energy Networks Association said, with Tim Field, spokesman for the company, adding: "It's likely that some people will still be off on Boxing Day. We don't have exact numbers."
UK Power Networks said there are about 23,379 households in the South East without power and the East of England is now virtually back to normal apart from a few isolated pockets of customers.
However, the company added: "Due to the severity of the storm damage in Kent, Surrey and Sussex it may take until the end of the week to restore power supplies to the final pockets of customers in these areas, though work is continuing to reconnect supplies as quickly as possible."
With many families' turkey dinner ruined, the power company made arrangements for "hundreds" of people left without power to have Christmas dinner.
Gatwick Airport chiefs are facing possible investigation over the travel misery. The airport saw some of the worst chaos on Christmas Eve after a power outage at its North Terminal led to "significant power outages and delays".
Just two months after Gatwick flights were hit by another storm, passengers complained of a lack of information and spoke of four-hour delays as more than 35 flights were cancelled.
The Civil Aviation Authority (CAA) said it expected the West Sussex airport's bosses to examine exactly what caused the chaos before deciding what further action to take.
Asked about a possible investigation, the spokesman added: "We need to know exactly what happened at the airport. Once we have that information we can decide if there is any further action we need to take."
An airport spokesman has said the cause of the outages was flooding from the River Mole into airfield substations and North Terminal.
Meanwhile, power has been restored to all homes in Scotland that were cut off after gale force winds swept across the country.
Severe weather warnings were earlier lifted as the high winds eased through Christmas Day.
At the height of the storm 3,500 homes lost electricity and just under 1,800 were still cut off from the grid.
Met Office yellow ''be aware'' warnings for high winds in the Highlands and Islands, Orkney and Shetland are no longer in force but a total of 15 flood warnings remain in place after rain showers swept across the country.
The majority of these are in Tayside where river levels are said to be high.
Northern areas bore the brunt of the bad weather with the highest gusts recorded at Peterhead (82 mph), Inverbervie (77 mph) and South Uist (75 mph).
The rest of the country was buffeted by wind speeds of between 50-60mph, causing Christmas attractions in Edinburgh to temporarily close.
Christmas travel plans were disrupted for hundreds of people, with ferries and flights cancelled, particularly to the Western Isles.
First Minister Alex Salmond praised the efforts of those who gave up their Christmas responding to the bad weather.
"The efforts by workers throughout Scotland who have gone out of their way and sacrificed their own Christmas Days to restore some joy to others should not go unnoticed," he said.
"People have really gone out of their way to help those in need with local SSE staff in Shetland even organising a ferry to reach residents without power in Fetlar.
"On behalf of everyone affected I'd like to thank the engineers, the ferry workers, our emergency service personnel and everyone else who has selflessly given up their time so that others can have a happy Christmas and enjoy treasured time with their family and friends."
Related