The three-piece girlband - Easther and Vernette Bennett, along with Kelle Bryant - will be joining the hit show this year, along with A1, Damage, 3T, Girl Thing, and a completely new band called 5th Story.
There's no mention of Louise Redknapp joining her former bandmates... yet! However, the Sun reported earlier in the year that the former frontwoman who quit the band in 1995 has been offered BIG money to come to the party...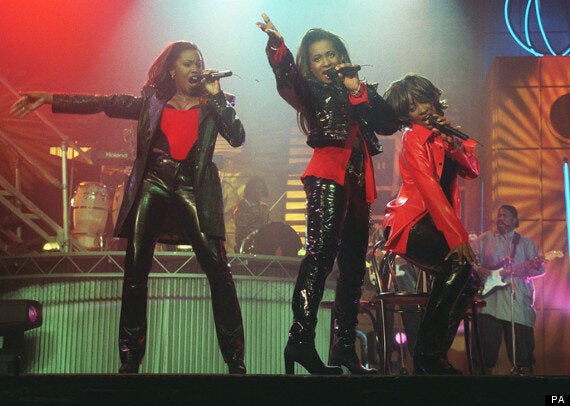 Eternal were massive sellers... but the ruptions within the band were equally large
Eternal were the first girl group to have a million-selling album in the UK, but it wasn't all good. "It's like going through a divorce. Sometimes you speak to your partners, sometimes you don't," reveals Easther in the programme.
And Vernette adds of their split, "We have a band member who doesn't want to be there. What do you do with that?"
Brit Award winners A1 had their problems too. The nineties pop band sold out arenas around the world, but struggled to come to terms with a tragic accident where four fans were fatally crushed at a signing.
For Damage, it was drugs. For 3T, it was about living up to their Jackson family legacy. And Simon Cowell called Girl Thing his "biggest mistake".
Girl Thing's Jodi Albert confesses, "This reunion for Girl Thing could be wonderful or it could be a nightmare."
The show will also feature a new element - a brand new super-group comprised of solo artists Gareth Gates, Adam Rickitt and Kavana, along with Another Level's Dane Bowers and Blazin' Squad's Kenzie.
The series will follow the band, now called 5th Story, as they adjust to being part of a completely new ensemble; each offering revealing insights into the difficulties that fame threw at them.
The first series of The Big Reunion has seen groups including Blue, Liberty X, Atomic Kitten and B*witched all enjoy a successful tour and inspiration to get back in the studio with each other, with wounds seemingly healed, and the bands even coming together to record a Christmas single. Whether it will be the same story for the new inductees... watch this space.
Here are the bunch of hopefuls from the first series - is this second lineup as promising?
Related