Power companies have been condemned for failing to restore supplies to thousands of households as the UK suffered a second major storm over the Christmas holiday. The clear-up operation from the chaos on Christmas Eve was made even worse by yet another blast from the Atlantic, which brought high winds and heavy rain to areas that were already hard-hit, and other parts of the country.
The Energy Networks Association (ENA) said that 13,000 homes were still without power across the south of England and Wales. Some 6,500 additional households remain without power following yesterday's storm in North Wales and 3,000 homes remain offline in Dumfriesshire, ScottishPower said.
More than 3,000 people in Kent, Surrey and Sussex are still without power since the Christmas Eve storm, according to UK Power Networks, although there had not been any more "widespread problems" after last night's bad weather. Meanwhile, about 5,000 customers in Northern Ireland were without electricity after severe gales with gusts of up to 75mph swept across southern and eastern counties overnight.
The network operator's promise to have everyone affected by the Christmas Eve storm back with power by the weekend did little to quell the anger of customers. Stephanie Chapman, 54, from Yalding, Kent, said she wished she had been given more warning about the floods.
Ms Chapman, who is disabled, decided to leave Yalding on Christmas Eve with her husband for fear that their home would be flooded.
But she said the EA should have issued a "severe flood warning", then she could have been better prepared. Chapman said: "David Cameron has been praising the EA for rescuing people from the floods. But they didn't warn us that it was coming. Why didn't they tell us it was so severe?"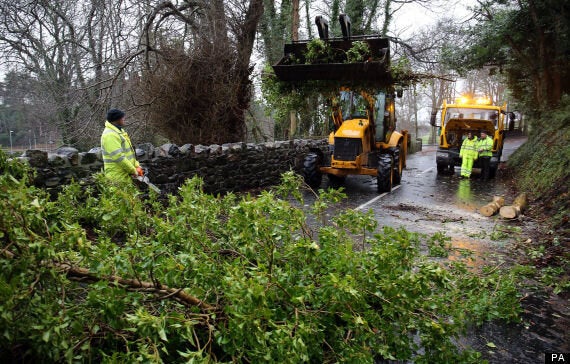 Fallen tree's are cleared in north Antrim as power companies face a backlash
Corinne Willson, who has been staying with her mother in Smeeth, near Ashford in Kent for Christmas, said they had been without electricity since Christmas Eve morning. "My mum has recently had cancer, so this was meant to be a nice Christmas for her, hosting Christmas," the 25-year-old said. "She was really disappointed and stressed out."
ENA spokesman Tony Glover apologised to those affected by the storms, but highlighted the difficulties technicians had been facing. He said: "The problem was that not only did we have a storm followed by torrential rain, but huge amounts of flooding afterwards. That impacted on our ability to get to the affected areas, and to get materials that we need.
"It meant that we were not able to get cherry pickers to replace and repair damaged infrastructure. We simply cannot put a cherry picker in the middle of a lake. We know that it is very tough and that it has been horrendous for people - I am not going to downplay it - but we are doing our best and working around the clock to help everyone who has been affected."
ScottishPower said it had now reconnected 14,500 customers who lost power during last night's storm. Spokesman Simon McMillan said: "The biggest issue affecting the electricity network has been uprooted trees and other debris blown on to overhead power lines, which has caused damage and brought down the power lines in some areas. Storm force winds are predicted to remain for most of the day causing hazardous working conditions and hampering the recovery operation.
"The areas worst affected by electricity supply problems currently are Gwynedd and Anglesey. ScottishPower has cancelled all non-essential maintenance work, and has drafted in extra engineers and contractors in order to help with the emergency response. The company will do all that it can to restore supplies as quickly as possible.
"However, a number of roads and bridges have been blocked and closed by fallen trees which could restrict access in certain locations, and where wind speeds remain high engineers will not be able to climb poles and work at height."
The Met Office said that bad weather would continue to affect large parts of the country throughout Friday. Nicola Maxey, a Met Office spokeswoman, said: "The weather front is still moving across the country, bringing strong winds and rain. "There is an amber warning for people to be prepared in Anglesey and Caernarfon in North Wales, and in parts of North West and North East England, which lasts until 6pm this evening.
"We also have a yellow warning for people to be aware of rain in southern parts of Scotland and parts of Northern Ireland which will be in place until midnight. And there is a yellow warning until midnight for wind in southern parts of Scotland, Northern Ireland and the West and East Midlands." Waves hit the shore at Saltcoats in Scotland where trains were cancelled on Friday
North West Ambulance Service (NWAS) took to Twitter to warn people about going outside in the gales. NWAS tweeted: "We're being inundated with 999 calls in the Fylde area relating to the windy weather! We advise the public to stay indoors where possible."
A spokeswoman said the service had taken half a dozen calls in Lancashire alone about people being blown over by the wind, though only minor injuries were reported. NWAS said that, as a precaution, people should stay indoors, out of the windy weather.
Conservative MP for Hastings and Rye, Amber Rudd, criticised Southeastern trains for failing to provide a replacement bus service for her constituents in the commuter belt towns. While Southern Rail was offering workers the option of commuting to London via bus and even using Twitter to post regular updates, Southeastern services, including their communications, she said had been "lamentable".
"So Southern have really done very well," said Ms Rudd. "I think it's partly because they've got Gatwick Airport on their tail wanting a better service. But Southeastern has not been anywhere near as good, and I have received a lot of complaints about them. They have been just too complacent".
Parts of the rail line were affected following a landslide, said Ms Rudd. "But the fact is that the buses are getting through. "Why haven't Southeastern made sure that constituents who want to get to Tunbridge Wells or to London can use those buses?" She added: "Their point is that it's a bit late in the day to try and get bus replacement services in place, but I'm afraid that's not good enough."
Robin Gisby, managing director of network operations at Network Rail, said this week "has been one of the most challenging periods we have faced in recent times". Thursday night's storms meant that several trains were delayed this morning so lines could be examined in daylight before trains set off.
The line from London to Portsmouth via Haslemere is blocked by four landslips near Liphook, and will stay closed over the weekend. The track at Ockley between Horsham and Dorking is also closed following a serious landslip. There are also delays on the East Coast Main Line north of Doncaster in South Yorkshire, due to temporary speed restrictions.
A spokesman for the Rail Delivery Group, which speaks on behalf of the rail industry, said: "We'd like to apologise to passengers whose journeys over the festive period have been affected by the bad weather of the last few days. Hundreds of rail staff have been working round the clock to clear tracks but some services have started later than planned to ensure passengers can complete their journeys safely."
The RAC has reported a 20% increase in breakdowns across the country, rising to a 40% increase in the South and South East between Christmas Eve and on Friday. A combination of storms and floods, congestion caused by shoppers hitting the Boxing Day sales and those heading home after the Christmas break, have all contributed to the spike in breakdowns over the last few days.
Sarah Rice, an RAC spokeswoman, said: "We are maintaining increased levels of both patrol and support team hours as we prepare for the onslaught of shoppers over the busy sale weekend. The anticipated early return to work on Monday inevitably sees high volumes of breakdowns."
The RAC advises motorists to give cars a five mile drive to test the battery, check tyre pressures and tread, coolant and screen wash levels, and make sure the windscreen wipers are working properly.