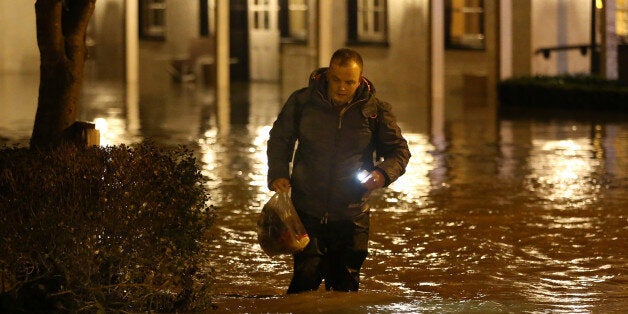 One of the country's biggest power distributors has promised to almost triple compensation for people affected by long-term power cuts following the Christmas storms which swept Britain.
UK Power Networks, which owns electricity lines and cables in London, the South East and east of England, said it will increase payments from £27 to £75 as "a gesture of goodwill", with more than 1,700 homes in Kent, Surrey and Sussex still without electricity last night.
When the high winds struck on Thursday, power was initially interrupted to more than 300,000 customers, the company said.
Director of customer services Matt Rudling said: "This is such a difficult time of year for people to be without power and so many families have also been flooded out of their homes.
"Our hearts go out to our customers and we have been trying different ways to help them, from arranging Christmas dinners to providing more help and tools on our website."
A spokesman added: "As a gesture of goodwill UK Power Networks has decided to boost the industry standard payment from £27 to £75 for customers who are without power for 48-60 hours including Christmas Day, and additional payments will be made to any customers off supply for longer up to a maximum of £432."
The Energy Networks Association (ENA) said around 4,000 properties across the UK were still without power today.
An ENA spokesman said most of the south-east of England had been reconnected, except for "a few pockets where the damage was severe", while areas of Cumbria, North Wales and Cheshire were also affected.
Forecasters have said mild, wet and blustery weather will be a respite compared to the two major storms endured over Christmas.
Meteogroup forecaster Sean Penston said showers will mainly affect western and southern England, Wales and parts of Scotland before a light storm moves in tomorrow.
"It won't be nearly as bad compared to the last two storms but it will no doubt make it hard for people recovering from flooding," he said.
Some 105 flood alerts and 33 more serious flood warnings remained in place across the country this morning, the Environment Agency said.
The woman, named in reports as Ericka Olivares, said her local council had done nothing to help villagers in Yalding, Kent, where homes had been severely damaged.
In a heated on-camera exchange with the PM, she said: "We still have no electric. We need electric. As I say the council, from Monday we have been trying to contact them, but they have all decided to go on their holidays. Nothing."
No mentioned of the incident was made when the PM tweeted. (See Below)
The authorities' efforts to deal with the chaos caused by the first storm on Monday were hampered by the arrival of a second storm on Boxing Day night, bringing with it gales of more than 100mph.
More than 1,200 homes flooded, while many rivers burst their banks and groundwater flooding made roads impassable.