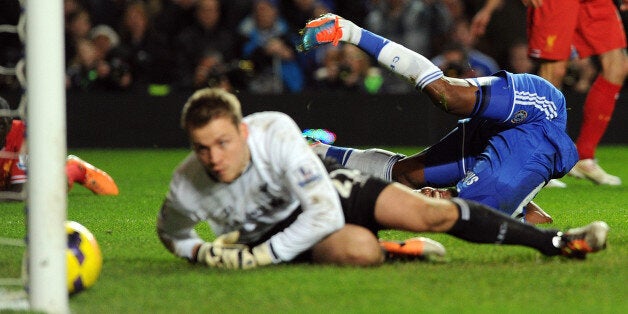 Jorge Valdano dubbed it "s**t on a stick football". Chelsea and Liverpool's spurt of Champions League clashes under José Mourinho and Rafael Benítez were dismal, anti-football adverts for the English game in the mid-2000s. But Mourinho's return enriched his first battle with the Reds since 2007, as Chelsea won a frantic and absorbing contest to move four points clear of their rivals.
"Big win, big opponent, big match and big respect to the players. I love it," Mourinho cooed after the game. Out of the top seven, Chelsea have lost only to Everton. "We deserved to win. They did nothing to score the first goal, it was just occasional. Our reaction was fantastic and in the second-half we defended well."
Liverpool "always come to Stamford Bridge full of determination", Mourinho said in his programme notes. In 2008-09 - the first full season Chelsea experienced without Mourinho - Liverpool became the first away Premier League team to triumph in SW6 in four-and-a-half-years. Chelsea beat Liverpool just once in the clubs' home league fixtures during the Portuguese's five-and-a-half-year spell away from England.
José Mourinho Says Luis Suárez Did 'Swimming Pool Jump'
Mourinho was always the likeliest candidate to infect this encounter with the vitriol it was invariably laced with during those duels with Benítez. Only with the Spaniard long since gone from the red corner, Brendan Rodgers is as much an apprentice as an adversary. Two of Mourinho's former allies have lost their jobs this month, shattering the possibility of him replacing Sir Alex Ferguson as English football's unofficial godfather, and Rodgers, irrespective of being a "good man and friend", was not prepared to roll over for his mentor.
With Ramires suspended, Mourinho selected David Luíz as his defensive midfielder. It was his performance for the Reds's visit two years ago that Gary Neville opined Luíz played like he was controlled by "a 10-year-old on a PlayStation". Mourinho, who has overlooked the Brazilian time and again, was another sceptic the Brazilian had to prove wrong. He started abysmally when he drifted too deep and played everyone onside for Philippe Coutinho's inviting dead-ball, which allowed Martin Skrtel to put Liverpool one-nil up inside four minutes.
"Where were you in Istanbul?" the travelling Liverpool fans hollered at Mourinho, who responded by giving them a polite wave. He was not as close as he was at Cardiff nine years ago to request silence.
The tempo was more stimulating than stultifying, a la 2005. Simon Mignolet denied Oscar and Frank Lampard inside the first 15 minutes and Eden Hazard's appeal for a penalty was ignored by referee Howard Webb, as Chelsea responded determinedly to going behind. Hazard soon picked himself up, in the mental sense, with a stunning equaliser for his fourth League goal in six games this month.
At Manchester City on Boxing Day, Liverpool exploited the space behind Joe Hart's defence with some perfect passing, but in west London it was not as precise. In one instance, Luis Suárez was lazily caught offside on the counter-attack and, in another, Joe Allen's touch was too heavy when he latched onto a neat flick by Coutinho, which allowed Gary Cahill to intervene. Chelsea, meanwhile, were that little bit slicker and more threatening in the final third.
The hosts were also buoyed by Ashley Cole's introduction, at the expense of the injured Branislav Ivanović. For such an unbalanced squad, right-back Cesar Azpilicueta's role on his weaker side has seemed counter-productive, and the majority of Chelsea's attacking play came down the left, which was where Hazard and Willian wandered to.
Chelsea administered a dose of déjà vu for Liverpool when they took a deserved lead on 34 minutes. For the second time in a week, Liverpool had fallen behind after going ahead and for the second time it was owed to a Mignolet error. Samuel Eto'o scruffily turned in Oscar's cross from close range, yet it was a saveable effort.
"He's been outstanding since he's come in and has gained us many points," Rodgers said of his goalkeeper. "He'll be a bit disappointed with the second. There's no complaints, though, he's been brilliant."
Now in front, Mourinho initiated the lockdown - although it was enforced - as Lampard was replaced by John Obi Mikel for the second 45 and suddenly Chelsea were bereft of another creative outlet. Luíz was encouraged to roam further forward instead, but Liverpool came close to exploiting the change when Mamadou Sakho's header looped onto the crossbar with Petr Čech a bystander. Luíz had actually recovered well from his error for the opener, and assisted Eto'o for a one-on-one with Mignolet two minutes later, yet the Belgian this time spread himself impregnably to repel the shot.
The ebb and flow had predictably subsided after the pause. Rodgers, who earlier this week bemoaned the slimness of Liverpool's squad, was forced to hand a debut to 19-year-old Australian Brad Smith for Joe Allen, who became the Reds' sixth casualty member (Sakho became number seven in the closing stages). The novice struggled to establish himself, although Luis Suárez and Glen Johnson still worked Čech in front of the Shed End.
Controversy is usually commonplace when these sides meet, and Webb's failure to award Luis Suárez a blatant penalty when Eto'o inexplicably tripped him up in the final 10 minutes will understandably dismay Rodgers, asked by the Football Association to explain his comments about official Lee Mason midweek.
"He's a top referee, Howard. I'll stay calm today," he said with restraint.
Fernando Torres was sent on and nearly hammered the final nail in his old club's coffin with a virtuoso solo run, but Eto'o's untidy finish was enough to seal the points, as Mourinho whipped the crowd into a frenzy before the final whistle.
As for Valdano: he was sacked as Real Madrid director general when Mourinho was in Spain. The Portuguese continued his habit of winning battles at the Bridge.
Related