Coca-Cola has published images of gay rights demonstrators - demanding the soft drink company reconsider its sponsorship of the Sochi 2014 Winter Olympics - as part of its official Christmas advertising.
Gay rights campaigners have been targeting the company's seasonal advertising campaigners, concerned about the so-called "gay propaganda" law in Russia, which in effect bans gay rights demonstrations, gay sex education and Pride marches.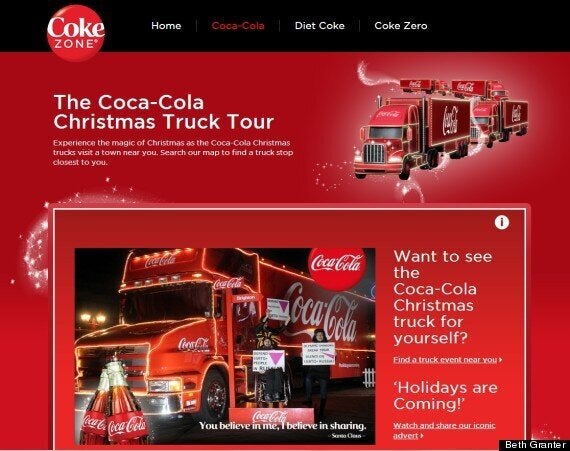 The screengrabbed images published on CokeZone
Images of the placards saying "Demand protection for LGBTQ+ Russians!" and "Olympic sponsors break your silence on LGBTQ+ Russia!" can be seen in plain view on the images of the truck in Brighton on the CokeZone website.
The demonstration was organised by trade unionists, members of The Socialist Party, and individuals on December 21, Granter said, but the protesters had not thought that their images would make the corporation's official page.
"Since Putin passed the law against the "propaganda of nontraditional sexual relations to minors", Russian LGBTQ+ citizens have seen homophobic and transphobic violence against them increase, whilst police stand by or even arrest the victims of assault," Putter said on her blog documenting the protest.
"These laws victimise LGBTQ+ people and validate violence towards us in a country where people are increasingly angry at a multitude of oppressive measures from the government."
Peter Tatchell, the veteran campaigner who has been vocally opposed to Russia's hosting of the Winter Olympics, called a similar demonstration against the Coke truck when it came to London's Covent Garden.
The company had released a statement when a petition on the matter was launched in August this year, saying they did not condone the "gay propaganda law" but supported the Games taking place in Sochi.
"As a sponsor since 1928, we believe the Olympic Games are a force for good that unite people through a common interest in sports, and we have seen firsthand the positive impact and long-lasting legacy they leave on every community that has been a host," `a spokeswoman said.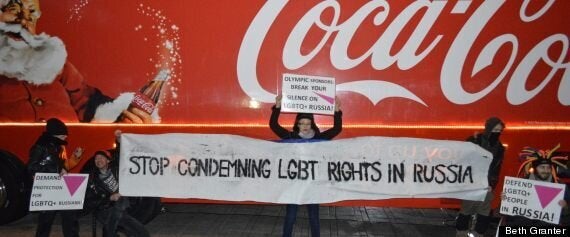 A photo of the protest taken by the demonstrators
Stolichnaya's owners the SPI group wrote a strong response, condemning the stance of the Russian government.
The letter, published bu chief executive Val Mendeleev said: "The recent dreadful actions taken by the Russian government limiting the rights of the LGBT community and the passionate reaction of the community have prompted me to write this letter to you.
"I want to stress that Stoli firmly opposes such attitude and actions. Indeed, as a company that encourages transparency and fairness, we are upset and angry.
"Stolichnaya Vodka has always been, and continues to be an fervent supporter and friend to the LGBT community."
Popular in the Community