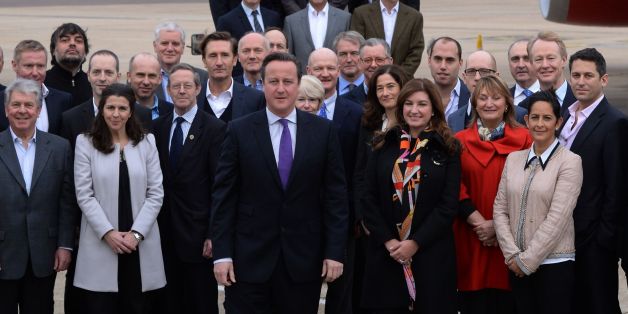 Stefan Rousseau/PA Wire
Apprentice star Karren Brady and Ian Cheshire, boss of the DIY giant, both advisers to David Cameron, lead the businesspeople who have received honours in the Queen's New Year's Honours list.
Conservative supporting Brady, vice-chair of West Ham Football club, received a CBE for "services to entrepreneurship and women in business". This comes months after she introduced George Osborne at this year's annual party conference as "the right man with the right plan" and accompanied the Prime Minister on his trip to China earlier in December.
The businesswoman, who became the party's Small Business Ambassador, was reported to have turned down six offers to stand as a Tory MP.
Cheshire-based property magnate Peter Emerson Jones was awarded an OBE for "services to business in the North West". He has given £31,000 to George Osborne's local constituency party in Tatton since 2008 through his company Emerson Development (Holdings) Limited.
Alan Parker, the head of PR firm Brunswick who went on holiday with David Cameron and is mates with Gordon Brown, received a knighthood.
Ian Cheshire, head of DIY giant Kingfisher, which owns B&Q and Screwfix, was knighted for services to "business, sustainability and the environment". The Kingfisher boss was appointed by the Prime Minister to serve on his business taskforce working on ways to slash EU red tape.
Cheshire was among 23 business leaders to back David Cameron's pre-election pledge to cut national insurance.
He also supported the Prime Minister's promise to hold a referendum on EU membership by 2017, saying in January: "It is a good step forward. The prime minister is trying to shape the agenda rather than things happening as a result of drift and by default."
Peter Hargreaves, co-founder of financial services giant Hargreaves Lansdown, was awarded a CBE for services to "business innovation [and] financial services". Hargraves, a supporter of Margaret Thatcher, has not donated to the Tories but did give£10,000 to the "NO2AV" electoral reform campaign, which was also backed by David Cameron.
Hargraves previously threatened to move to Monaco or the Isle of Man to escape the 50p upper rate of income tax for those earning over £150,000-a-year, which he said would cost him an extra £500,000-a-year in tax.
George Osborne ended up cutting the 50p upper rate of income tax last year to just 45p.
Other figures to be knighted include ex-Bank of England deputy governor Paul Tucker, who lost out on the governorship to Mark Carney. Tucker left the Bank of England in October to go into academia, after having £9,200 spent on two leaving parties but not receiving any presents.
Sir Paul's failure to succeed Mervyn King as governor sparked speculation that his chances had been damaged by his entanglement in controversy surrounding the Libor rate-rigging scandal at Barclays.
In response to news of his knighthood, Sir Paul said: "This is a great honour: a tribute to the people with whom I worked for many years in the pursuit of stability, without which the economy cannot flourish."
Former Lord Mayor Roger Gifford was also knighted for his "services to international business, culture and the City of London".