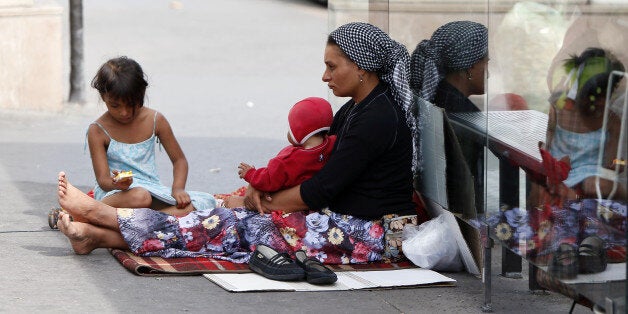 Romania has dismissed UK "invasion" fears, after a top Tory warned of rising costs for council taxpayers as a result of incoming Romanian and Bulgarian migrants.
Philippa Roe, Conservative leader of Westminster City Council, said that despite efforts to plan for tomorrow's lifting of restrictions, the authority had "no idea" how many people would come.
She warned that a minority of the immigrants from the two European Union accession countries could escalate existing high-profile problems, including pickpocketing, "very aggressive" beggars and defecating on people's doorsteps.
But the Romanian foreign ministry spokeswoman has aid Romanians don't even want to come to the UK.
Brandusa Predescu told the BBC: "There isn't going to be an invasion of Romanians... Not all Romanians, young and old, are going to get on a plane.
"We don't have estimates, you don't have estimates. The UK will (not be) and is not the preferred destination of Romanians."
Additionally, there does not seem to be a surge of trips into Britain from eastern Europe over the New Year period, according to travel firms.
Blue Air, a low-cost Romanian airline which flies from Bacau and Bucharest to London and Dublin, as well as other parts of Europe, said it still had seats available after New Year's Day, while Luton Airport said no additional flights have been put on to its regular schedule
An easyJet spokesman added: "We haven't seen any evidence of an increase to our passenger numbers from January 2014 on these routes."
But Ms Roe criticised Government's changes, rushed through Parliament before Christmas, which will impose new three-month limits on benefit claims for immigrants – claiming it is not long enough.
"You could easily come to Britain and survive for three months and find yourself eligible for benefits," she said.
"I would much rather it had been a year, if not two years."
Conservative Grassroots "respectfully disagree" with the Government, which says it is powerless to extend the restrictions.
Ahead of the lifting of restrictions at midnight, Migration Watch UK also claimed Britain remained the most lucrative destination in the European Union for Romanians and Bulgarians.
It said despite the new rules, a "generous" welfare system provided a major incentive for migrants. The reforms do not affect welfare payments for claimants with jobs, meaning migrants will still have more in-salary and in-work benefits than in any other major European country, the group claimed.
But business leaders have said lifting the restrictions will help "cement our economic recovery" as well as fill the gap in the number of skilled workers companies need.
The London Chamber of Commerce and Industry said that 55% of its members believe immigration has had a positive impact on the capital's economy and more than half employ migrant workers.
Chief executive Colin Stanbridge said debate often fails to take into account the positive benefits that migration brings to the London economy.
"The Government has allowed the debate about Bulgarian and Romanian migration to become highly politicised when, in fact, giving London businesses access to a larger labour pool will help cement our economic recovery."