A man dubbed the "British Forrest Gump" has been beaten up and robbed during a charity run across Canada.
Jamie McDonald was dressed as a superhero when he was set upon in the ski resort of Banff, Alberta, losing his hard drive, camera and wallet - which are crucial to his ambitious project.
The 27-year-old, who suffered blows to the head in the incident, said the bag could be worth a "million dollars in fundraising" and has launched an appeal on social networking sites to get the bag back.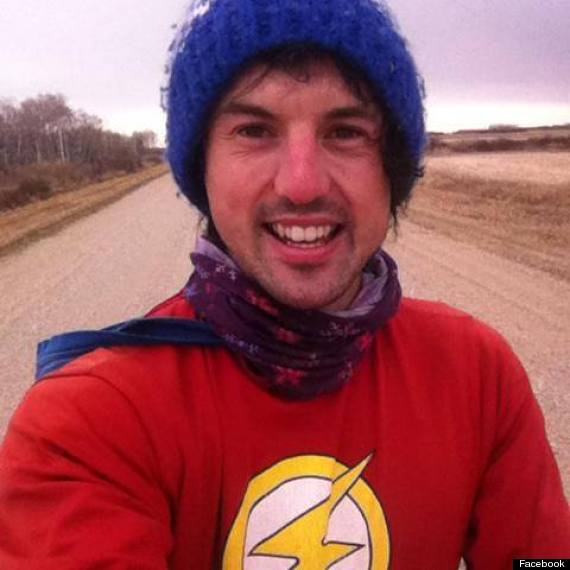 Jamie McDonald is running dressed as The Flash
Writing on Twitter, he said: "So I just got beat up, I couldn't give a shit but my MAN BAG that got left behind, has my world behind it. Video footage and more....
"This is a call out, anyone in #Banff, hand over a bag that is the difference in changing this world. Thank you so much!
"Thank you all for your support. I just want to say that all that can be done is being done and I'm OK physically, just a bit shaken up."
McDonald later posted on Facebook: "Putting a call out - my bag was taken on New Year's Eve in Banff, everything I own.
"Including my hard drive, camera, and my wallet and all my positions. Please RT & help find it, the bag could be worth a million dollars in fundraising, please help."
He later added: "I just want to say I'm OK physically, shaken up but OK. Finding my bag is the most important thing and everything that can be being done is being done.
"Thank you to everybody for your support and shout outs, let's hope it turns up tomorrow."
McDonald, from Gloucester, is less than 600 miles from becoming the first person to run across Canada without a support team but is on the toughest leg of his route as he makes his way across the Rocky Mountains.
The 5,000 mile coast-to-coast run is the equivalent of more than 200 marathons in 275 days, and involves him sleeping by the side of the road, or relying on strangers' generosity as he undertakes the challenge.
McDonald's coast-to-coast challenge began in St John's, Labrador, in March and will finish in Vancouver after passing through mountain ranges, national parks and along highways.
Originally billed as the "British Forrest Gump", he is running dressed as comic superhero The Flash after a public vote on Twitter and Facebook chose a costume for him.
McDonald, who suffered from a debilitating immune deficiency and potentially fatal spinal condition syringomyelia as a child, spent the first nine years of his life in and out of children's hospitals and is running to raise funds for SickKids Foundation, Great Ormond Street Hospital Children's Charity and the Pied Piper Appeal.
He has also recently won two major awards having been voted male runner of the year and won the Golden Shoe from Running Magazine.