In an atmosphere more tense than Griffindor-Slytherin Quidditch final, China and Japan's ambassadors are battling out their country's differences in the columns of the British press - with both sides comparing each other to Harry Potter villain Lord Voldemort.
Central to the fears of renewed conflict between the world's second and third largest economies are the Senkaku islands and their mineral resources, administered by Japan but claimed by China where they are known as the Diaoyu.
This has been compounded by anger in China over a visit by Japan's prime minister, Shinzo Abe to a controversial shrine to the country's war dead, including several generals accused of war crimes.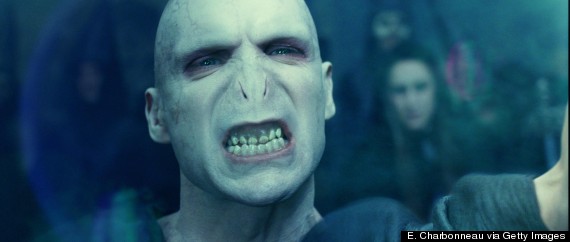 Who is more like Lord Voldemort - China or Japan?
Abe said he had no intention for the visit to be taken as a sign of defiance of war guilt or of Japanese militarism, but to make a vow of pacifism.
Liu Xiaoming, the Chinese ambassador to London, said Beijing was not for one moment convinced, and accused him of "raising the spectre of militarism".
In a blistering broadside in the Daily Telegraph, Liu wrote: "In the Harry Potter story, the dark wizard Voldemort dies hard because the seven horcruxes, which contain parts of his soul, have been destroyed.
"If militarism is like the haunting Voldemort of Japan, the Yasukuni shrine in Tokyo is a kind of horcrux, representing the darkest parts of that nation's soul."
"China and Britain were wartime allies," he continued. "Our troops fought shoulder to shoulder against Japanese aggressors and made enormous sacrifices. Sixty-eight years have passed since that horrible war. Yet there are always some incorrigible people in Japan who show no signs of remorse for war crimes.
"Instead, they seek to reinterpret history. They pose a serious threat to global peace. The Chinese will not allow such attempts. I am sure British and all other peace-loving folk will not remain indifferent."
No, said Japan's ambassador to Britain, it is China who are way more like Lord Voldemort.
Writing in the Daily Telegraph on Monday, Keiichi Hayashi said China was attempting a complete power shift in the Asia-Pacific region.
"There are two paths open to China. One is to seek dialogue, and abide by the rule of law.
The other is to play the role of Voldemort in the region by letting loose the evil of an arms race and escalation of tensions, although Japan will not escalate the situation from its side.
"The answer seems obvious. Although China has so far refused to enable dialogue between our leaders, I sincerely hope that it will come forward, rather than keep invoking the ghost of militarism of seven decades ago, which no longer exists."
It's not actually the first time analogies between China's foreign policy and Harry Potter have been made. In a far more flattering comparison, London Mayor Boris Johnson joked on a visit to the country that Britain and China had a relationship like Harry Potter and Cho Chang.
"Who in English literature is the most famous student? Who is the most famous student in contemporary British writing, would you say? I will give you a clue - he sometimes has a wand... Harry Potter," he said in a speech to students at Beijing University.
He then quizzed students: "Where does the train go from which Harry Potter has to catch to go to his school? King's Cross, absolutely right, which is where? London.
"And who according to JK Rowling, the author of the Harry Potter novels, was Harry Potter's first girlfriend? Who is the first person he kisses? That's right, Cho Chang - who is a Chinese overseas student at Hogwarts school.
"Ladies and gents I rest my case. I don't think I need to argue any further, that is the future of Britain and of London."