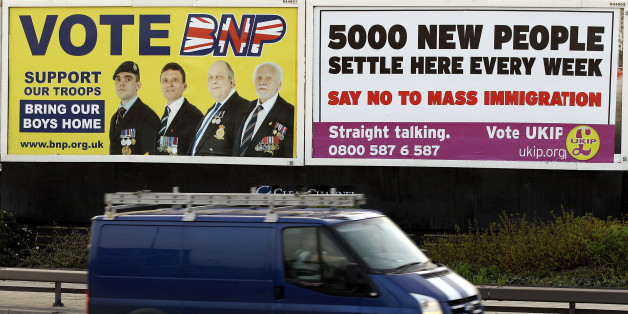 Oli Scarff via Getty Images
Ukip is on track to pick up most of the votes from the British National Party in upcoming elections as Nick Griffin's party is set for a disastrous performance at the ballot box, according to Ukip grassroots members.
The prediction came amid discussions on Ukip's members-only forum in the wake of BNP leader Nick Griffin's bankruptcy. Brian Otridge, campaign manager for Ukip's North West Hampshire Branch, wrote:
"He never was very bright was he? BNP got 564,321 votes in GE2010 [General Election] and 943,598 in EE2009 [European Elections]. We should be picking up 50-75% of those now."
The influx of BNP support is likely to cause problems given that Ukip explicitly bans BNP members from joining their party. Ukip also describes itself as a "libertarian, non-racist party".
Simon Cressy, from the HOPE Not Hate campaign, told the Huffington Post UK: "There's an unspoken link between Ukip and the BNP, as it's widely accepted and they know it's the case that if people don't vote for the BNP, they'll vote for Ukip.
Meanwhile, one North Wales UKIP member, Cameron Needham, told the forum that the ban on accepting BNP members into the party should remain although he accepted that "it's a bit harsh on people if their political ideologies to [sic] genuinely change".
Ukip has kept a distance from the English Defence League, although major EDL figures like former leader Tommy Robinson have voiced their support for the party.
Writing last August, a Ukip member from North Nottinghamshire who dubs himself "NukeZilla" suggests that Ukip should reverse its ban on EDL members, praising them as "brave enough to stand up and speak out against criminals and a 2 tier system.
Marty Caine, a Ukip activist based in Poole and Mid Dorset, responds in agreement, lavishing praise on the EDL for "protesting about something that I believe they are right to protest about".
"We could certainly put those extra membership fees to some good use in the Party," he adds.
A Ukip spokesman told the Huffington Post UK: "Ukip is the only political party to have restrictions in place to prevent former members of parties or groups such as the BNP and EDL from joining. This is because we hold dearly the values of freedom, equality and liberty that organisations such as these contradict.
"Whether or not a few certain individuals on a UKIP forum voice different opinions does not change the party's firm stance on this issue and we would advise UKIP members who feel they may not fully comprehend why UKIP proudly adheres to this position to reconsider their reasons."
"Regarding the assertion that former BNP members may move to UKIP, we are entirely unwilling to renege on our promise to current members to uphold the party's core values and ideals of which this rule forms a central tenet. However the collapse of the BNP is surely a good thing in the detoxification of British politics."
See here for what the Ukip members said: