'Sherlock' may be dividing viewers, but his contemporary creator says critics are wrong, AND he'll be back for a fourth series.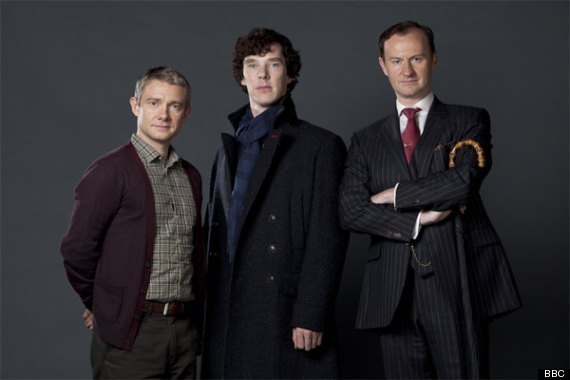 Watson, Sherlock and Mycroft will have further adventures, Steven Moffat has confirmed
Steven Moffat brushed off negative response to the first episode this year, 'The Empty Hearse', which included many comedic nods to fans' theories about how Sherlock, played by Benedict Cumberbatch, escaped his death when he jumped from a roof in the previous finale.
"It has had a brilliant response. I read the press, it is not true.
"It is not a detective show. It is a show about a detective … It is a show that celebrates a clever man. So we make the show look complex."
And he confirmed he and co-writer Mark Gatiss were already toying with ideas for a fourth series...
"We have got plans, they tend to be what exciting twists and turns we can have. Not blowing up the world."
He added, "Rather excitingly, Mark and I, for no particular reason, we just got out of the rain and sat at the top of the production bus … and we just started plotting out what we could do in the future. And we plotted out the whole of series four and five."
Moffat then added, "The ideas we had that day, I thought were the best we've ever had."
The final episode of the current series, 'The Last Vow', airs on Sunday, with Sherlock's latest villain coming in the form of newspaper proprietor August Magnussen, played by Danish actor Lars Mikkelsen (The Killing, Borgen).
And, with Watson happily married to Mary and baby on the way, it appears Sherlock, too, may have found himself a lady-friend...
Moffat said: "He is completely human. He has emotions but he suppresses them to be a better detective. He believes emotion gets in the way of his brilliant brain."
'Sherlock: The Final Vow' is on Sunday evening at 8.30pm, BBC1.