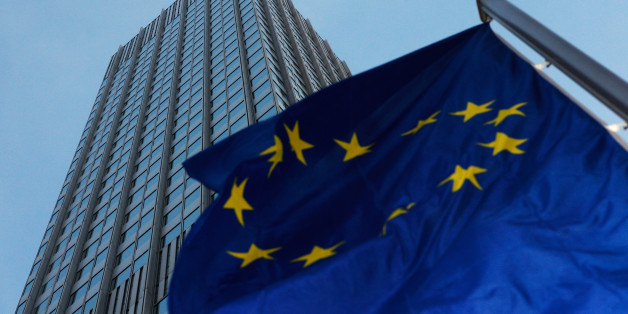 Bloomberg via Getty Images
A new poll suggests that while the British public aren't ready to pull out of the European Union just yet, they would like to see a shift in power away from Brussels.
According to a new survey by Ipsos MORI, more people think Britain should stay in the EU, but try to reduce its powers, than want Britain to leave.
Some 38% favour the former course of action and 28% the latter, the study for think tank British Future found.
Conservatives (57%), Labour (41%) and Lib Dem (43%) supporters all back plans to stay in Europe but try to reduce its powers, over getting out (29%, 19% and 22%) respectively.
The think tank said this was good news for Prime Minister David Cameron, who has proposed such a renegotiation.
Supporters of UKIP favour getting out over renegotiation - 73% to 19%.
More than two thirds of people (68%) agree that if Romanians and Bulgarians coming to the UK learn the language, work hard and pay taxes, fit in and become part of the community, then they should be welcomed to the country.
People also think migrants who come to Britain from other European countries should learn English (69%), get a job and pay taxes (64%) and not claim benefits (48%).
The study also found that people are three times more optimistic about the economy in 2014 than they have been for the past two years.
The 'State of the Nation' survey, which has tracked public opinion among 16-75 year-olds since 2012, finds that the number of people optimistic about the economy has risen from 9% in 2012 to 29% today. While the number feeling pessimistic still remains higher, it has almost halved in two years, from 74% in 2012 to 40% in 2014.
Across Britain as a whole, 28% of people think Scotland will vote to become independent; 48% think it will remain part of the UK. People in Scotland predict, by 58% to 20%, that Scotland will vote to stay in the UK.
There was little optimism for the prospects of Roy Hodgson's England side in soccer's World Cup finals, to be held in Brazil this summer.
Some 36% of those expressing a view feel that England will be knocked out in the first round, with 32% thinking they will stay in for one game more and only 4% believing they could be watching England in the final in July.
British Future's director Sunder Katwala said: "Some people may feel that 2014 will be a tumultuous year for British identity. But our survey shows a Britain where people will 'keep calm and carry on'.
"Optimism is growing, for both the economy and the country as a whole. People are confident that Scotland will remain in the Union. They think we should fix our relationship with the EU, not get out, and most will welcome those EU migrants who work hard, pay taxes and make an effort to fit in by learning English.
"Sadly the English can't look to their football team for a stronger sense of national identity though - few are hopeful about June's World Cup."
:: Polling was conducted online from December 6 to 11 and surveyed a representative sample of 2,244 adults aged 16-75 in Great Britain, including 394 people in Scotland.