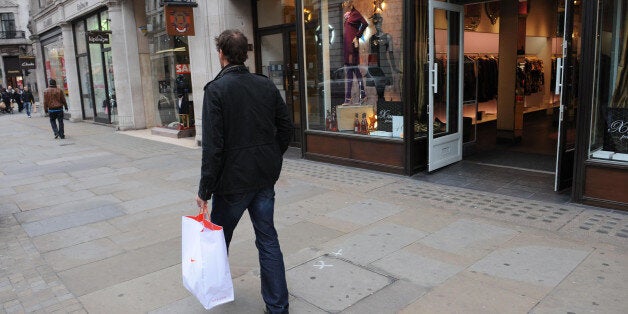 The Christmas high street shopping rush thinned out again last year after footfall in December dropped 3.7% compared with 2012 as consumers increasingly turned to the web.
Figures from the British Retail Consortium (BRC) also showed that over the last quarter of the year, numbers were down 3.8%, the worst drop since August 2012.
Overall footfall recorded by the BRC/Springboard monitor was down 2.4% in December compared with the previous year. It was double the 1.2% year-on-year drop seen in December 2012.
High streets suffered more than out-of-town locations which were down 0.6%, and shopping centres which were off by 1.5%.
The 2.4% overall fall was an improvement on the heavier decline in November but will be seen as a disappointment after many stores pinned their hopes on sparkling Christmas trading following a dismal autumn.
It comes after separate data showed almost one in five non-food purchases were made online in December, as overall retail sales grew 0.4% on a like-for-like basis.
BRC director-general Helen Dickinson said: "These figures highlight how the rapid evolution of multichannel is changing the face of shopping, particularly at Christmas.
"Rather than making multiple trips to the shops over the festive period, many of us planned ahead for our gift-buying and took advantage of retailers' investment in services like click-and-collect."
Diane Wehrle, retail insights director at Springboard, said: "Footfall increased over the month from November, but it was just not enough to deliver an increase from December 2012."
Shoppers had delayed visits to the high street early in the month as they anticipated pre-Christmas discounts before severe weather in the days leading up to December 25 hampered a hoped-for late surge.
In England, the worst decline was in the South West, where footfall was down 3.4%. Wales saw a drop of 3.8% while Northern Ireland saw an 8.7% slump and Scotland's numbers were down 1.9%.