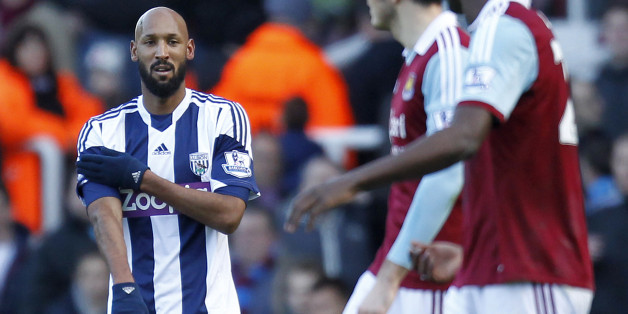 IAN KINGTON via Getty Images
The Kick It Out organisation has said it is "very frustrated" by the Football Association's slow response to the Nicolas Anelka quenelle case.
West Brom striker Anelka celebrated the first of his two goals at West Ham last month with an alleged anti-Semitic action - described as an inverted Nazi salute - which sparked outrage in France.
The Frenchman defended his celebration, however, claiming it was a "special dedication" to his friend, the French comedian Dieudonne M'bala. The French government is trying to ban comedian M'bala's shows over his use of the gesture.
Kick It Out claim there has been "total silence" from the FA during its investigation, in spite of requests on its progress, and say criticism which has been levelled at them is unfair.
"While an investigation is being undertaken, it is protocol for Kick It Out not to comment on matters which might prejudice the outcome and be unfair to any party or individual involved in this process," a statement read.
"Kick It Out, like others, is very frustrated at the length of time taken to investigate this issue and, as usual, has taken criticism, particularly from community organisations, who feel deeply and rightly aggrieved by the gesture and want to know why the campaign has not made more of a public condemnatory statement of Anelka's actions.
BLOG: What The Quinelle Is Going On With Anelka And The FA?
This gesture was just a special dedication to my comedian friend Dieudonné

— nicolas anelka (@anelkaofficiel) December 28, 2013
"While Kick It Out can and is prepared to be condemnatory, where it is appropriate, it strives to ensure that it works to counter the prejudices which lead to discrimination and hatred. The campaign will certainly make known its comments on this case at the conclusion of The FA's investigation."
Anelka has vowed not to repeat the celebration after discussions with his club and the FA has appointed an expert to help them look at the sign.
It is expected the body will announce a verdict later this month.