An Iraq war veteran turned photographer is being sued for $1million (£670,000) after he took topless pictures of a model on the 86th floor of the Empire State Building.
Allen Henson snapped images of Texan model Shelby Carter using his mobile phone on the observation deck last August.
On Monday he revealed on Twitter the owners of the iconic building had launched a lawsuit against him.
Scroll down for more pictures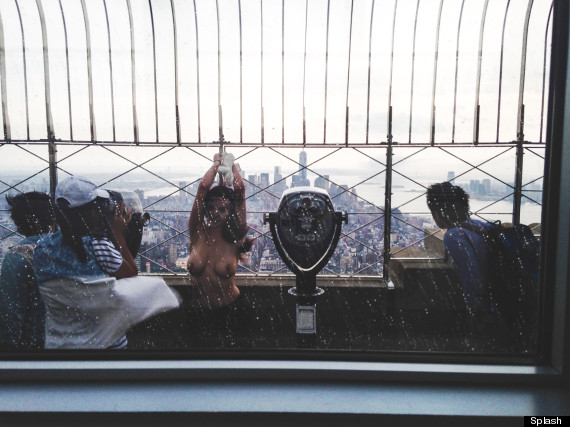 Shelby Carter was photographed on the observation deck of the Empire State Building in August
So I'm being sued for a million dollars in the NY Supreme court by the empire state building. This should be interesting... stay tuned.

— Allen Henson (@AllenHenson) January 13, 2014
They claim Henson took the photos "for his own commercial purpose" and damaged the landmark's "reputation as a safe and secure family friendly tourist attraction", Reuters reports.
Henson told USA Today he began photographing topless women after learning it is legal for them to bare their breasts in public.
This is thanks to a 1992 court decision to reverse laws punishing it because they violated the city's equal protection clauses.
He said: "It was a social experiment. When I heard it was legal I thought 'Really?!' On paper it sounded great but I wanted to see how it worked out in the world."
Story continues below
Henson insists the pictures have no commercial value as they were only posted on social media.
And he told the BBC: "We thought it would just be wonderful, a great view… no harm no foul.
"Nobody was injured, no children were around. It wasn't a photo shoot, they've made a mistake here."
Nor did the building's guards react or attempt to remove him from the premises Henson claims, adding: "On a side note, she had wonderful breasts."
Despite the looming legal case, Henson seems pretty relaxed about continuing his "social experiment" and has called upon a "large platoon" of topless girls to accompany him to the NY Supreme Court.
I need a large platoon; about 50 topless girls to accompany me to the NY Supreme Court. Send info to allen@allenhenson.com

— Allen Henson (@AllenHenson) January 14, 2014
We'll keep you posted.