Rarely would a tug-of-love custody battle in Austria merit the attention of a British MP. Far less the attention of a House of Commons debate.
But Beth Schlesinger's case is not ordinary. The British Cambridge graduate's desperate attempts to get custody of her four-year-old twins from her Austrian ex-husband Michael was described as "Kafkaesque" and a case that "defies normal understanding", by Graham Stringer, the MP who proposed the debate.
Stringer, the MP for Blackley and Broughton where Beth's parents live, said he hoped the government would recognise the "scale of the injustice" which had occurred.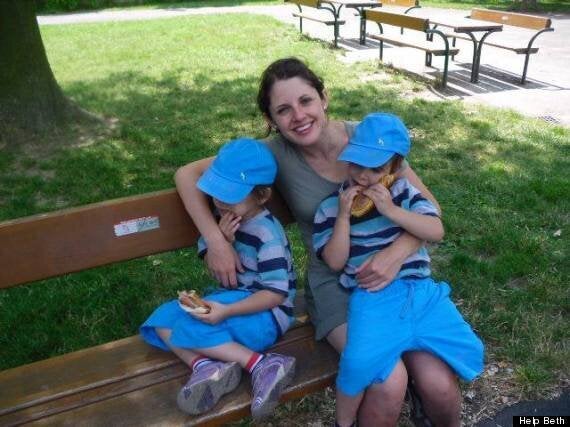 Beth Schlesinger with her children on a custody visit
Born Beth Alexander in Manchester, the young graduate told HuffPost UK she met her Austrian doctor husband in Paris and the pair were married in an Orthodox Jewish ceremony after a whirlwind romance. The marriage, according to Ms Schlesinger, became abusive and threatening, even after she gave birth to their twin boys Samuel and Benjamin.
In 2010, Dr Schlesinger attempted to have his wife committed to a mental hospital, and police were called, with the doctor removed from the house and issued with a restraining order.
"Schlesinger had been violent and abusive not only towards Beth but towards her father and her father-in-law," Stringer told the House.
Dr Schlesinger is then alleged to have contacted high court judge and close friend Konstanze Thau, and asked her to contact the judge in charge of the case, Susanne Göttlicher, according to what Stringer said in the House.
"I do not usually believe in conspiracies, but in this case the decisions that were taken were so strange that one has to suspect that undue influence and conspiracy were taking place," Stringer told assembled MPs.
After the meeting between the two judges, Ms Schlesinger says she received an order from Judge Göttlicher which reduced the mother's custody from full to joint custody and prevented her from leaving Austria with the children. She had no court hearing.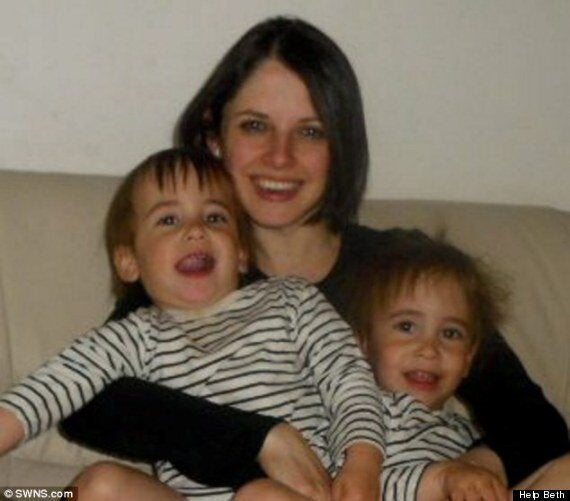 Beth Schlesinger has expressed concerns about her children's care
In 2011, a doctor produced a psychiatric report on Beth, which said the children should be returned to Schlesinger's control. Ms Schlesinger told HuffPost UK that her German was not fluent, yet she was examined in the language, and penalised for her slow replies. Two other reports, one by a qualified psychiatrist and another by social services, found no fault with Ms Schlesinger's care of her twins.
Judge Göttlicher gave full custody to the father. Desperate to see her children, who were only allowed limited time with their mother, Ms Schlesinger launched several appeals, and though higher courts ordered an investigation into the odd nature of the reports, none were carried out, according to Stringer.
Ms Schlesinger has taken her appeal to the Austrian Supreme Court, which has said that it is inadmissible, but with no explanation given. Filipino nannies look after the children 12 hours a day, according to Ms Schlesinger and Stringer. The father is purported to have cancelled 50 visits, and she pays €40 to a visiting centre for each visit to her children.
"My children can't communicate at all," Ms Schlesinger told HuffPost UK in a phone interview from her home in Vienna. "They say a few words in a mish-mash of German and English but they don't sing songs, they don't know any games. When they had their first nanny, they came to me with matted hair, dirty clothes and nails. They were obviously refusing baths. They were filthy, obviously traumatised."
Dr Schlesinger has repeatedly refused to comment publicly on the case.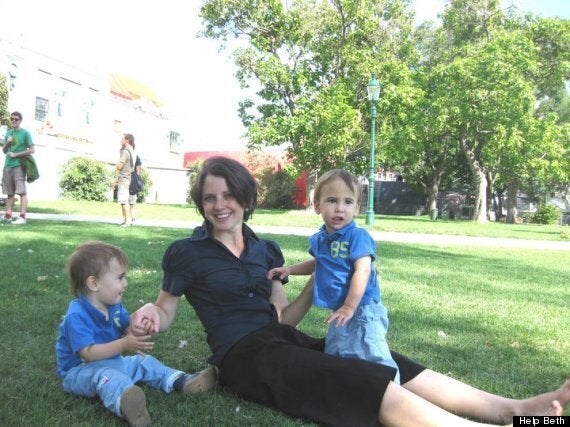 The twins are now four years old, but Ms Schlesinger says they cannot speak in full sentences
In the House, Stringer described: "Samuel had four teeth taken out without any medical reasons given and Benjamin had two teeth removed. Judge Göttlicher had suppressed a report from the nursery that when the children were seeing the father they had been crying and screaming, and had been extremely distressed."
Stringer said he had been to see the Austrian ambassador about the case, as had Hendon MP Matthew Offord. "I like Austria, but the decision in Beth Alexander's case is a blight on the Austrian judicial system," Stringer concluded.
Mike Freer, the Conservative MP for Finchley and Golders Green said the case "cannot be in line with natural justice."
Labour MP Ivan Lewis said he was concerned that the twins are "suffering from seriously impaired development and appear traumatised. In those circumstances, I think that we all have a duty to act."
He accused the Austrian judge Thau, of "seeking to influence the judge hearing the case on behalf of the father," and said there were "serious issues to be addressed about a flawed process and —I will go even further—about corruption."
Ms Schlesinger told HuffPost UK her family are now preparing to take the case to the European Court of Human Rights, but in the debate last night, Minister for Europe David Lidington hinted the British government could be prepared to make representations to Austria on Ms Schlesinger's behalf.
Lidington admitted there was "limited scope for the Foreign and Commonwealth Office to intervene." But he acknowledged "deep concerns about the integrity of the legal process that has taken place in Austria".
If, he said, the legal team behind the mother could offer "significant and substantiated" concerns about corruption, the British government could raise that with Austrian authorities.
"I must be clear that we can intervene only if there are sufficient grounds, particularly substantiated grounds about the process, and that we cannot simply take sides regarding custody of the children, any more than ministers can take sides in such disputes that are handled by United Kingdom courts," he said.
"If her lawyers advise that there are grounds for a diplomatic intervention that might be beneficial and could be substantiated by sufficient evidence, her legal team are welcome to put their representations to us again."
Related