If you thought that carrying around an ultrasound picture of your future child demonstrated parental commitment, then you've been outclassed.
An American couple want to launch a company that manufactures 3D babies in order that prospective parents can own a replica of their unborn foetus.
In their YouTube video (above), Gerard and Katie asks future parents: "Wouldn't you like to meet your baby before he or she is born?"
While this might seem like a frighteningly premature thought, on their website 3D-babies.com the couple promise your 3D baby "will be a treasured family remembrance of your pregnancy and new baby".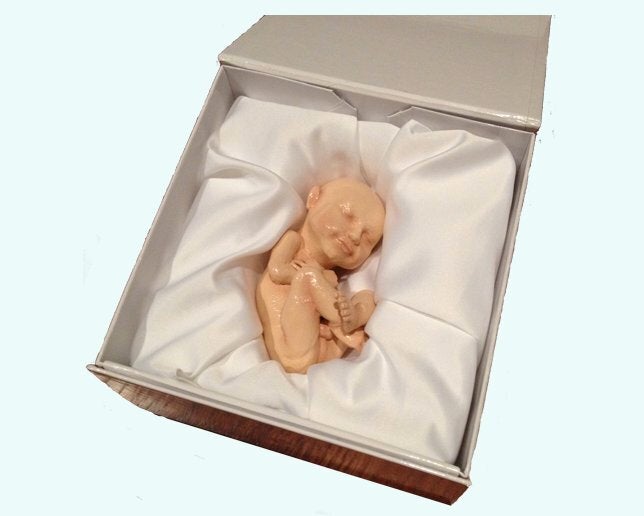 At present, the parents are looking for help to fund their dream. Last year, the pair set up a crowdfunding page that sadly fell many thousands of dollars short of achieving their goal of buying a Stratasys U-Print SE Plus (3D Printer).
The website offers helpful details on how the 3D printing process would work.
The couple would use the latest computer graphics and 3D printing technology to create a customised 3D baby figurine, using 3D/4D ultrasound or newborn baby pictures as a guide.
Each 'Lifesize 3D Baby' would be a replica of a 23-24 week old foetus (8 inches from head to bottom), reproduced according to the images sent in by parents.
Mum and dad would also be free to select the body positioning and colour of the baby, ranging from light to dark.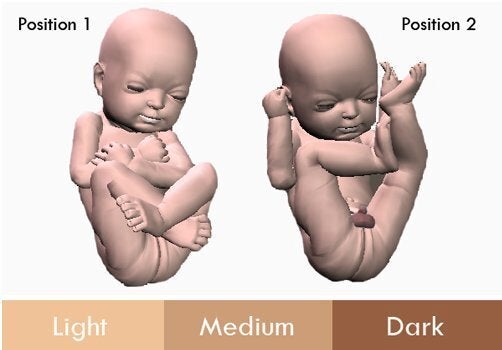 Choose the position and shade of your fetus model
Katy explains: "We are the parents of two wonderful little girls, ages 3 and 1. We love being parents and have been cherishing our time with our girls.
"Every time another family member or friend has a baby, we are reminded of our first few months with our girls. More importantly, we are reminded of how much we have forgotten about that time.
"We want to help other families hold on to those same memories... This product will become a treasured family heirloom."
And if you don't happen to have your own baby foetus photos lying around, Katy and Gerard would also like to offer people the chance to own celebrity babies.
A model of North West, the daughter of Kim Kardashian and Kanye West, could be available for a snip at $250.