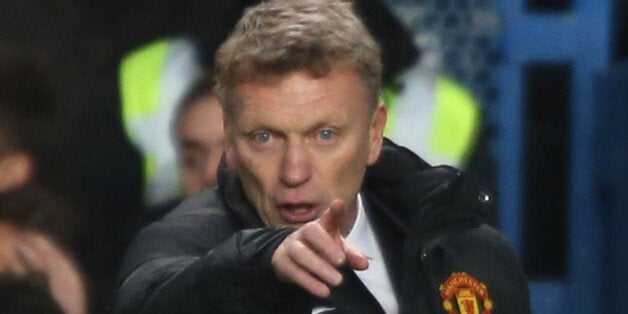 Manchester United have seven players out of contract in the summer and it is becoming tougher to justify rewarding any of them with an extension.
Ryan Giggs will be 41 next season, Rio Ferdinand has played just 13 times under David Moyes, Federico Macheda and Fábio da Silva will probably never play again for the club, and Jesse Lingard is unlikely to break through when reinforcements arrive in the summer.
The other two, Patrice Evra and Nemanja Vidić, were arguably the worst performers in United's seventh Premier League defeat of the season at Chelsea. Evra, who has steadily regressed since his turbulent 2010 World Cup, is believed to want to leave at the end of the season and Vidić's agent hinted earlier this month his client could be open to moving on. On current form, neither would be missed.
The flimsiest area of this United squad remains in midfield, but the defence is a growing concern. They have conceded 27 goals in 22 League games - seven at Manchester City and Chelsea - and Moyes is struggling to settle on a preferred back four nearly seven months into his reign.
Vidić's reducer on Eden Hazard was frustration at the result and his own performance. He has never been blessed with pace and his usually decisive reading of the game is not what it was, yet he remains United's best central defender. Out of position for Samuel Eto'o's second and out-jumped by John Terry for the Cameroonian's third, he is resembling an injury-ravaged 30-something defender with greater regularity.
Chelsea 3-1 Manchester United: David Moyes Fails Against José Mourinho Again
Jonny Evans should not be immune from flak, either. He is 26 now and has played in three title-winning teams at United but has declined drastically under Moyes, whose defensive prowess at Everton should have benefitted the Ulsterman. He and Vidić were not in sync for the abysmal defending which Eto'o capitalised on to double Chelsea's lead, and Evans' name in the starting 11 could soon induce as much anxiety among United fans as it did during his annus horribilis in 2010.
Evra is probably the weakest of the trio, though. His crossing for such an adventurous left-back is diabolical, and there are perhaps bigger problems for Moyes when players are unhappy he tried to replace such an established starter in the summer. Be it Fabio Coentrão, Leighton Baines or Luke Shaw, any of them would represent an upgrade at Evra's expense.
The Frenchman, 33 in May, has become a defensive liability in recent seasons but is currently experiencing an awful spell. Susceptible to the blind pass, often out-paced and easily deceived, more teams are targeting him. Unlike Vidić, Evra rarely succumbs to injury - which made his withdrawal on Sunday such a rare sight - and the lack of rest and a competitor for his position may have contributed to his deterioration.
Moyes is having to countenance poor form on a regular basis due to the paucity of options he has. Full-back Fábio, adept on both wings, has made just one start all season and seems to have signed his death certificate with that red card in the FA Cup defeat to Swansea. Yet Antonio Valencia, terrible for the last 18 months, is still selected ahead of the admittedly raw Wilfried Zaha.
A Valencia cross past the first man is as seldom as a Moyes win at Chelsea, and the Ecuadorean's four-and-a-half-years at United have been patchy, at best. Michael Carrick, already rewarded with a new contract until next year, has also struggled under Moyes and is not as reliable a presence as he was in the last two seasons.
It will have heartened Moyes to see Adnan Januzaj perform so determinedly against players twice his size, though. Danny Welbeck was lively if wasteful and Phil Jones, although at fault for Eto'o's opener, at least added some much needed steel to a lightweight midfield. However it was Rafael da Silva, his late two-footed indiscretion aside, who best embodied everything about being a Manchester United player. Skilful, tough and resilient, Moyes needs more like him. Evra and Vidić, brilliant servants for eight years, are in danger of becoming relics.
Related