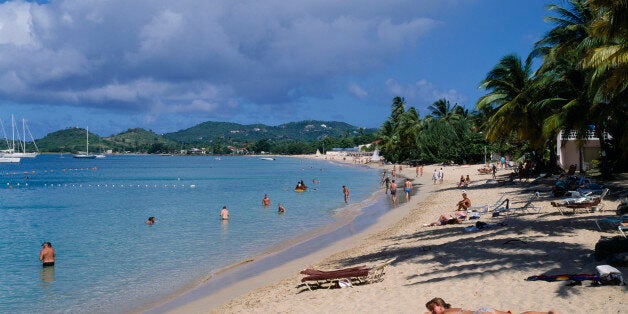 At least two people are being held by police in the Caribbean after a Briton was killed while defending his wife on a dream holiday.
Police in St Lucia said investigations are continuing after 62-year-old Roger Pratt from Warwickshire died when he was attacked on his boat On Friday - just hours after the couple's plan to leave was thwarted by officials.
Mr Pratt's wife Margaret is being treated in hospital after the attack.
A St Lucian police spokesman said Mr Pratt died trying to defend his wife from attackers, but said there was no evidence the man was shot.
He said: "Nobody has been arrested yet but there are some guys in custody. "The investigators are very busy looking at what happened."
The couple were attacked while their boat was moored off the Vieux Fort coast where they had been staying as part of the round-the-world voyage, celebrating Mrs Pratt's 60th birthday.
The couple left Lowestoft in June, navigating the English coastline before heading to the Algarve and on to the Caribbean.
Writing on her LinkedIn profile before she left, Mrs Pratt said: "Off travelling! The plan is to be in the Caribbean for my 60th birthday in January 2014... all a bit of a leap into the unknown. Please stay in touch - I plan to be an assiduous correspondent!"
The couple lived in the village of Moreton Morrell before embarking on their adventure.
Writing on her blog in the hours before the attack, Mrs Pratt spoke of how bureaucracy thwarted their attempts to leave that part of the Caribbean.
She said: "On Thursday morning the plan was to clear out from Soufriere, then to travel south and use up the 72 hours before we had to be away.
"But bureaucracy intervened. HM Customs and Excise in Soufriere told us that exit had to happen within 24 hours of clearing out; and that anyway, we couldn't clear out of Soufriere that day because the Immigration Officer hadn't come to work(!!)
"So here we are in Vieux Fort, the most southerly port of clearance in St Lucia. It's very different. There's a port; an airport and no tourists - and so it's a regular town."
St Lucian tourism minister Lorne Theophilus said: "It is with much regret that I and other industry partners have learnt of the unfortunate incident which has resulted in the loss of life of a visitor to our shores.
"At this time we extend our sincerest condolences to the family of British national Roger Pratt. To his wife, who also sustained injuries as a result of the attack off the Vieux Fort coast, we extend our deepest sympathies. Our prayers are with her for a speedy recovery.
"This is an active investigation and law enforcement is leading the charge in an attempt to bring the perpetrator or perpetrators to justice speedily. Law enforcement officials have briefed myself and other senior tourism officials on aspects of the case although I am not at liberty to share some of those details with you at this time."