One of the UN's most senior leaders has warned against Western intervention in Syria, drawing on her experience as prime minister of New Zealand when she decided not to take the country to war with Iraq.
Helen Clark, who was a Labour prime minister of New Zealand for nine years, said she had never regretted her decision not to join the Allies in the toppling of Sadaam Hussein.
Speaking at the Women of the Year lecture in London, Clark, now the Administrator of the United Nations Development Programme which is the third most senior UN position, said she had firm hopes of peaceful dialogue this week as parties meet in Geneva.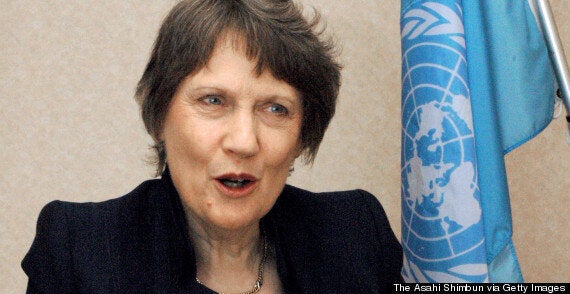 The United Nations Development Programme (UNDP) Administrator Helen Clark
When confronted with the US plan for intervention after the devastating gas attack in 2013 on the outskirts of Damascus, Clark said that "on a personal level, I did not think that would do a lot of good.
"And that seemed to be the judgment of other people, including the House of Commons here."
Though she faced stiff criticism in 2003 from some national and international quarters for opposing war in Iraq, Clark said, in response to a question from The Huffington Post, that she "always felt that was the right decision" and still does, in her developmental capacity.
"It was a bold move, and it did not pay off. There was a huge debate about this in Britain of course, and about how bad Sadaam Hussein was. He was of course a very bad leader, but our judgement should have been that his own people should have dealt with him.
"A foreign intervention did not help. Iraq is now very worrying, I was there late last year, you can see how the Syrian situation is affecting it too.
"On Syria, it is estimated that it has lost 35 years of development progress. It is back to where it was 35 years ago."
But she stressed: "If anyone seriously thinks there's a long term solution to Syrian crisis by military means... it has to be negotiated."
Clark said she firmly supported the original decision of UN Secretary General Ban-Ki Moon this week to invite the Iranians to participate in Geneva peace talks, causing outrage among Syrian opposition groups.
"Iran lends a lot of influence to the government of Syria. Iran must be there. Even if it means the loss of some of the opposition groups," Clark said.
She does not have a great deal of concern that foreign governments are offering little to no opportunity for Syrians to seek asylum abroad. Britain has not offered any asylum possibilities for Syriams.
"The first focus is to help the refugees where they are, and help Jordan and Syria deal with the huge economic impact of so many refugees into their countries," she said.
"The children need to go to school, people need healthcare, they have to live somewhere, they need water, they need energy, they need jobs. These [neighbouring countries] are not wealthy countries either. And migrants are often turned on by local population. So we have to work at that level."
In a wide-ranging lecture, Clark spoke of her time as a girl growing up on a farm in rural New Zealand, and the challenges she faced as the country's first elected female prime minister in 1999.
"Politics is not for the faint-hearted," she warned. "If it's not sexism, it's other arrows that come your way. A woman's strength is often associated with being 'tough'. So some of the strength that would be admired in men takes a while to be appreciated in women.
"I honestly can't think of any time in nine years where there were issues for me, but I'd got to the top. Everyone still wants to knock you off, but it wasn't about sexism.
In my third term there was some silliness, colleagues saw a bumper stick in one conservative part of the country which said 'Ditch the Bitch'. A Syrian man runs next of a burned truck that was attacked by an explosive barrel thrown from a Syrian forces helicopter in Aleppo
"Julia Gillard [the ex-Australian prime minister] had a rough time for sure. I think the level of vitriol was more than we have seen against male politicians. Politics is tough, but that was particularly hard."
She remains passionate about women's issues at the UN, from birth control and female infanticide, to improving female representation in politics.
"I think if nothing else is working, you should have quotas," she insisted. "One of the things that improved representation here in the UK was Labour's women only shortlists. Women are now much more numerous in the House of Commons.
"We reached the 30% representation in New Zealand, which is a Millenium Development Goal, because we switched to proportional representation, partially, and parties had to put women on the party lists."
She has watched with interest the accusations of sexism against Lord Rennard and the various sexual harassment and abuse cases coming out of the BBC.
"It is a good thing that these issues are coming to the fore, and having to be dealt with," she said. "This is coupled with some of the horror stories coming out of the BBC, where these issues went on and on and on for years.
"Can anyone believe this? And how many work places let it go on? It was intolerable in the past and it's intolerable now that men have behaved this way."